Photos of Victoria Beckham Flying and David Beckham With Wayne Rooney, Gordon Brown, Gary Lineker England's World Cup 2018 Bid
While Victoria Flies David Backs England's World Cup Bid
Victoria Beckham flew from Heathrow to Los Angeles yesterday, while David was at Wembley Stadium alongside Gordon Brown, Wayne Rooney and Gary Lineker supporting England's bid to host the World Cup in 2018. The Beckhams have made quite the impression on Paris Hilton, who said: "I am going to ask Victoria and David to be godparents to my children... I'm going to name my kids David and Victoria because she is so hot and I want kids as beautiful as her." Victoria's also received a back handed compliment from Miley Cyrus, who says she wants to be a "soccer mom" just like Victoria. Heh. Meanwhile, David spoke about the World Cup bid: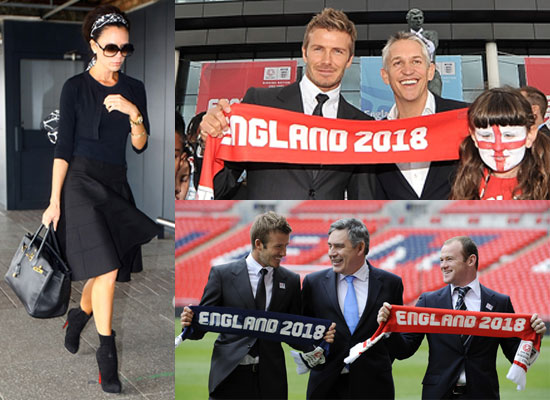 "It would be up there with winning (trophies) and the success I've had in my career because to be part of a successful bid, like I was with the Olympics, would be a huge honor. I've played with some of the biggest and best (players) in the world and all they talk about is the passion and atmosphere that is shown at England games and games against teams from England. We, as a country, are always ready for big competitions. If someone was to say next week we'll stage a tournament in England, I don't think there are many other countries who would be ready to facilitate that."
Do you want to see England host the World Cup in 2018?
To see lots more of David and Victoria, plus video footage from Wembley, just read more.
Source and Paul Chesterton/Jason Green/Bobby Rachpoot/BigPicturesPhoto.com