Photos of Victoria Beckham at Heathrow Airport, Weight Issues, Gossip About Spice Girls Reunion 2010 World Cup in South Africa
Victoria Heads Out of Heathrow as Spice Girl Rumours Swirl
After attending parties and shows at London Fashion Week, Victoria Beckham didn't let her style slip as she headed to Heathrow Airport yesterday. She wasn't in town for dinner with the other four former Spice Girls last week, but Geri Halliwell has revealed she was texting Victoria throughout the evening, and they have all been discussing possibilities. David has had his fair share of speculation about his future career moves, and now the spotlight's on Victoria. Adding further fuel to the fire, today it is being reported that Mel B wants the band to reform for a one-off performance at the World Cup in South Africa in 2010. Vote in my poll to let me know if you'd like to see another Spice Girls reunion. Whether Victoria joins in remains to be seen, but one thing's for sure, she's not impressed by the attention given to her weight, saying: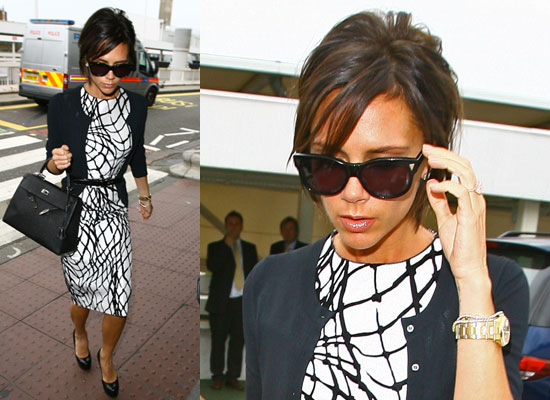 "I am fine - happy and healthy... I find it irresponsible when people obsess about my shape and size. I appreciate there are young girls and women who look at me as a role model and it is simply untrue to say I do not eat and I am unhealthy. I have a healthy diet, a healthy lifestyle and plenty of energy to run after my three energetic young boys and travel the world managing my fashion business."
What do you make of Victoria's comments?
To see more pictures of Victoria at the airport, just read more.