Photos of Victoria Beckham and Her Boys Arriving at LAX Plus David Beckham Training With AC Milan in Italy
Victoria Carries Her Boys' Toys While David Trains in Italy
After spending Christmas together, the Beckhams went their separate ways for the lead up to New Year, with David heading to Milan and Victoria staying in the UK with Brooklyn, Romeo and Cruz. After reportedly spending a quiet New Year's Eve at Beckhingham Palace, Victoria took her boys and their toys back to LA yesterday, keeping her hat over her eyes as she travelled from Heathrow to LAX, having taken them to see We Will Rock You at the Dominion over the weekend. Meanwhile David spent the last days of 2009 training with AC Milan in Varese and then changed into a smart suit for a press conference. He's spoken about his return to Manchester United when AC Milan plays his old club in March, saying: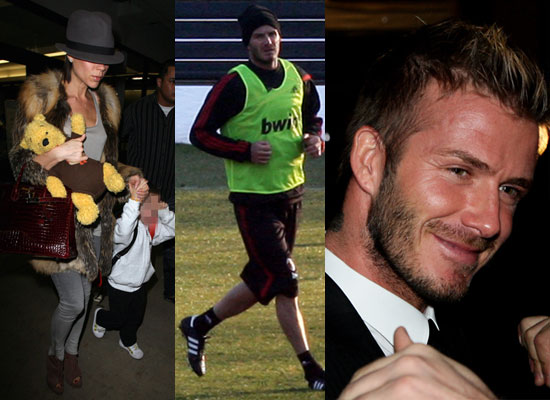 "I'm sure they will all try and kick me if they can. They wouldn't be at United if they weren't special people and special players, because Manchester United only keep players like that when they are special. I would have loved to have stayed at Manchester United my whole career and never have gone anywhere else but it just wasn't meant to be... There's no chance of me being a manager or a coach. It doesn't interest me. I love coaching kids, that's my biggest passion."
With David reportedly working on a menswear line, it looks like the new decade is going to be just as busy as the last for one of Britain's biggest stars of the noughties, although apparently he wasn't famous enough for The Simpsons, who turned him down for a cameo appearance!
To see more pictures of Victoria and the boys plus David in Milan, read more.