Photos of Victoria Beckham Watching David Beckham Play LA Galaxy MLS Cup Final, Gordon Ramsay Cook Beckhams Christmas Dinner
Posh and Boys Support Becks & Prep For Ramsay Christmas
Victoria Beckham was on sweet treat duty on Friday as she took the boys to Yogurtland in LA, while David spent Saturday training and attending a press conference in a warm hat. The Beckham brood then made the trip to Seattle to support David and LA Galaxy in their big MLS Cup final game on Sunday, following the team's win last weekend. Despite losing to Real Salt Lake 5-4 in penalties following the 1-1 draw, Becks remained positive about the team, saying: "It's always tough losing, but we can be proud of where we've come to".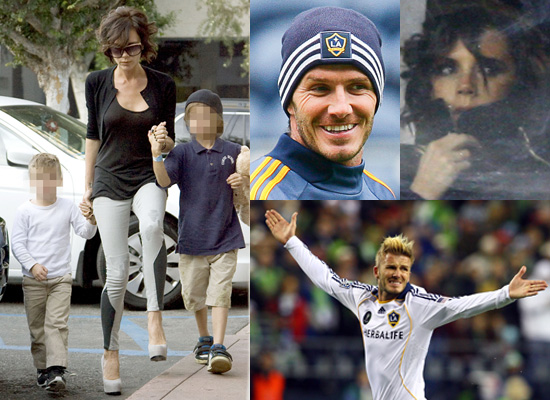 It's been confirmed David can buy an MLS franchise when his playing career ends, and David confirmed he'll be going back to the Galaxy after his loan spell in Milan and the World Cup next Summer, but will be undergoing rehabilitation on his ankle injury. It sounds like Becks could do with a rest over the holiday season, and reports suggest he's going to get pampered at Christmas with Gordon Ramsay is reportedly cooking dinner for the Beckhams as their two families will spend Christmas Day together at Beckingham Palace. Sounds fun!
To see more pictures of the Beckhams' weekend, read more.