Photos of Victoria Beckham Watching David Beckham Playing For AC Milan
Victoria Helps Celebrate David's Dream Deal
Victoria Beckham changed out of her chaffeur outfit to watch David and AC Milan win 3-0 against Atalanta in Milan yesterday. She was joined in the stands by Simon Fuller and a crowd who gave Becks a standing ovation following the news that he will play for both teams on a "timeshare" arrangement. The couple kept the celebrations going with a meal at Da Giacomo in the evening, giving Victoria a chance to practice the Italian she's learning. David told Sky Sports News he wants to stay at Milan because he's "playing with one of the biggest clubs in the world, and playing with some of the best players in the world... But the one that everyone talks about is that it gives me the chance to play in the 2010 World Cup and I have to do everything I can to be involved in that". David has also spoken about the deal, saying: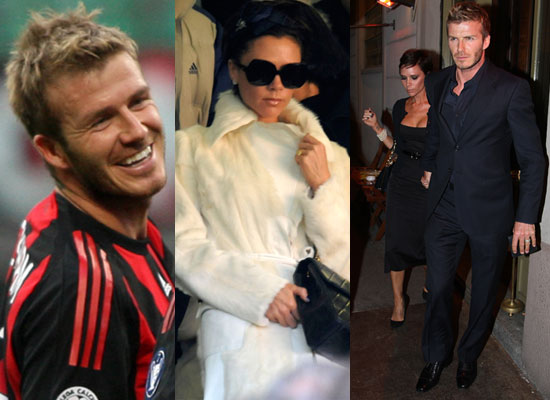 "I'm really grateful to the LA Galaxy and AC Milan for making this dream deal happen. It allows me to play for AC Milan and the LA Galaxy in the same year, and at the same time to continue my commitment to develop soccer in the United States, which is something I am passionate about. My family is happy and settled and will remain in LA. The perfect result for 2009 would be for me to help Milan to reach the Champions League and for the LA Galaxy to make the play-offs and win the MLS Cup."
It certainly sounds like the ideal deal for everyone concerned. Congratulations David!
To see lots more pictures of David and Victoria, just read more.