Photos of Victoria and David Beckham Watching LA Lakers Basketball Match With Cruz and Romeo
Beckhams Watch Basketball, Next Stop the 2012 Olympics?
Victoria Beckham took Romeo and Cruz to join David on Friday for one of his favourite pasttimes: watching the LA Lakers! The family sat court side as their basketball team took on the Dallas Mavericks at Staples Center in Los Angeles, and Harper's Bazaar cover star Victoria showed off her voluminous waves. By Sunday David was back on the pitch for LA Galaxy's 2-2 draw against Chivas USA, and by the evening he took up a spectator role again with Brooklyn to watch the Lakers play the Atlanta Hawks. Rumours about the Spice Girls continue to surface, and while musicals and TV shows have been denied, David could be in favour of the latest reports that the girls will perform at the 2012 Olympics opening ceremony.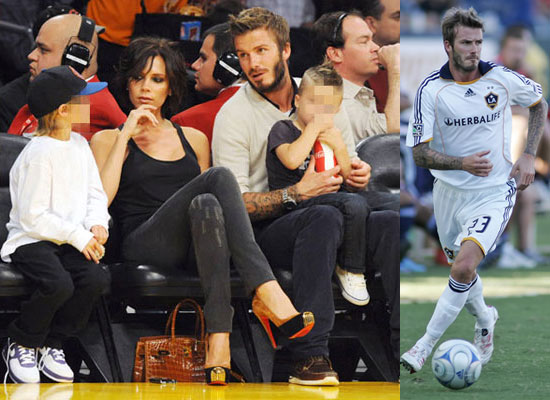 To see more pictures of the Beckhams at the basketball and David on the pitch, read more.