Photos and Video Footage of Amy Winehouse Performing at St Lucia Jazz Festival
Bored Amy Booed Off Stage at St Lucia Jazz Festival
Amy Winehouse swapped her bikini for a bright blue dress on Friday night as she performed at the St Lucia Jazz Festival. Unfortunately it was another shaky performance from Amy, whose strange behaviour began right at the start — check out video footage after the jump. Amy even reportedly told the crowd: "Sorry, I'm bored" as she started "Some Unholy War" but changed her mind and began "Back to Black" instead. The situation got so dire Amy left the stage halfway through, apparently being booed off stage amidst reports she was drinking heavily. Her spokesman insists the gig was abandoned because of bad weather, saying: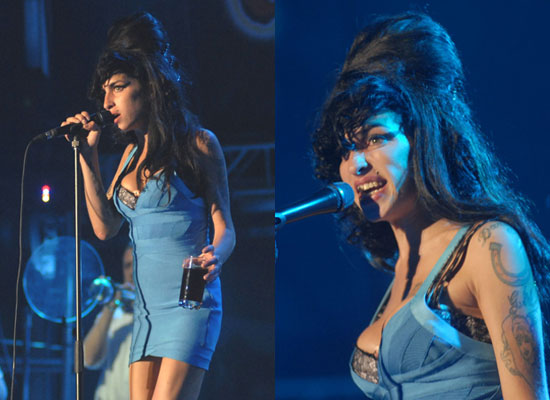 "Amy would like to express her disappointment that weather forced the abandonment of her show at the St Lucia Jazz Festival last night. The set started well, but as the heavens opened, a number of technical difficulties occurred on stage, culminating with the lighting rig failing for two songs. In addition, rain began to flood the technical wings at the side of the stage which caused sound problems. Amy and the band tried to soldier on but the set had to be cut short. Amy is very disappointed as St Lucia has been wonderful to her and its people have welcomed her with open arms, but circumstances beyond anyone's control meant that this special show did not go as planned."
With this latest concerning news, and her recent collapse, it sounds like Amy is still suffering following all that drama with Blake. She's due to perform at London's Shepherd's Bush Empire on 31 May, so let's hope she gets the help she needs on her return home.
To see video footage of Amy performing, plus more pictures, read more.