Photos and Video of Lily Allen at Live Lounge, Lily Allen Is Quitting Music to Focus on Fashion Rental Shop and Record Label
Lily to Take Time Out From Music to Make Fashion Democratic
Lily Allen wore a cute pink coat for her Live Lounge session in Maida Vale yesterday. She performed her new single "Who'd Have Known" as well as a cover of Oasis' "I'm Outta Time" — watch and listen to them after the jump — and chatted with Sara Cox about her plans for the future. Following her statement that she has "no plans to make another record", Lily confirmed she'll take "one or two years off from recording and performing music" from March 2010, after her tour with Dizzee Rascal. She also confirmed her plans to start her own record label and set up a rental fashion shop with her sister called Lucy In Disguise, explaining: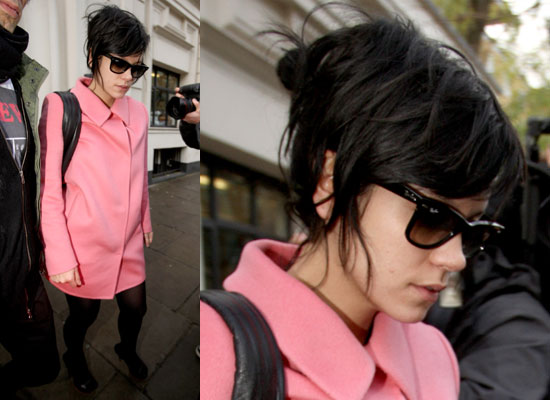 "It's about making fashion democratic. That's the idea behind it. It's about getting really nice clothes but letting people rent them for affordable prices so they can go out and feel like a million dollars and it won't cost them a million dollars."
Before she bows out temporarily from music, Lily will also be performing at a Little Noise session at Exeter Castle with Coldplay and La Roux on 19 December.
To watch Lily's Live Lounge performances, just read more.
"Who'd Have Known"
"I'm Outta Time"