Photos and Watch Video of Robert Pattinson at David Letterman Show in New York, Reveals A Fan Tried To Get Naked For Him
Robert Pattinson Visits Letterman and Says No to Naked Fans
New Moon finally opens tomorrow, and the hardworking cast must be looking forward to a break sometime soon! Robert Pattinson headed to The Late Show with David Letterman in New York City last night, and was greeted by a huge gathering of fans screaming his name. You can check out the crowds plus videos of the interview under the cut, and he revealed on Ellen that fans will literally do anything for him — he said: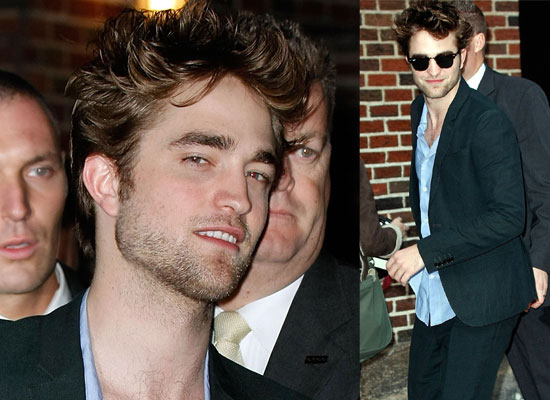 "[A fan] said... 'What can I do to get your attention?' I was like um, just take your clothes off.... She stood there and frantically started taking her clothes off and got dragged out of the room by security. I never felt more terrible."
Oops, looks like that's one joke he won't make again!
To see more gorgeous photos of Rob and watch his interview with Letterman, as well as a glimpse into the madness he sees with some footage of him meeting fans, just read more.


Fans outside the Letterman show
Robert's interview with David Letterman Part 1
Robert's interview with David Letterman Part 2