Photos of the Winners Backstage at the Grammy Awards 2010 Plus List of Winners Including Taylor Swift, Beyonce Knowles
2010 Grammy Awards — The Winners and The Show!
Beyonce won six Grammy awards at the 2010 ceremony that took place last night in Los Angeles! Her song "Single Ladies" took Song of the Year and Best R'n'B Song too, while country star Taylor Swift took home four awards including Album of the Year for Fearless. Jay-Z, Black Eyed Peas and Kings of Leon won three gongs each, while Lady GaGa and Eminem got to take home two. Lady GaGa put in a fab performance alongside Elton John at the ceremony, while Beyonce's performance included a cover of Alanis Morrisette's "You Oughta Know".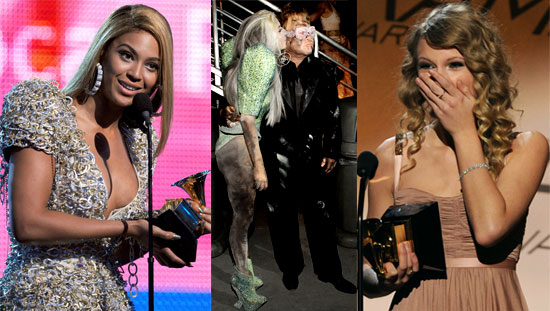 Katy Perry sat next to her man Russell Brand in the audience, while Nicole Kidman accompanied Keith Urban to the ceremony. Presenters included Glee's Lea Michele, Robert Downey Jr, Jeff Bridges and Ringo Starr. Paris and Prince Jackson also attended to pick up a posthumous Lifetime Achievement Award on behalf of their late father, Michael.
To see a list of winners, more photos, and videos of Lady GaGa and Beyonce's performances, just read more.
For a complete list in all 110 Grammy categories, click here. The following is a partial list.
RECORD OF THE YEAR
"Use Somebody," Kings of Leon
ALBUM OF THE YEAR
Fearless, Taylor Swift
SONG OF THE YEAR
"Single Ladies (Put a Ring on It)," Beyonce
BEST NEW ARTIST
Zac Brown Band
BEST FEMALE POP VOCAL PERFORMANCE
"Halo," Beyonce
BEST MALE POP VOCAL PERFORMANCE
"Make It Mine," Jason Mraz
BEST POP PERFORMANCE BY A DUO OR GROUP WITH VOCALS
"I Gotta Feeling," Black Eyed Peas
BEST POP COLLABORATION WITH VOCALS
"Lucky," Jason Mraz and Colbie Caillat
BEST POP INSTRUMENTAL PERFORMANCE
"Throw Down Your Heart," Bela Fleck
BEST POP INSTRUMENTAL ALBUM
Potato Hole, Booker T. Jones
BEST POP ALBUM
The E.N.D., The Black Eyed Peas
BEST DANCE RECORDING
"Poker Face," Lady Gaga
BEST ELECTRONIC/DANCE ALBUM
The Fame, Lady Gaga
BEST TRADITIONAL POP VOCAL ALBUM
Michael Buble Meets Madison Square Garden, Michael Buble
BEST SOLO ROCK VOCAL PERFORMANCE
"Working on a Dream," Bruce Springsteen
BEST ROCK PERFORMANCE BY A DUO OR GROUP WITH VOCALS
"Use Somebody," Kings Of Leon
BEST HARD ROCK PERFORMANCE
"War Machine," AC/DC
BEST METAL PERFORMANCE
"Dissident Aggressor," Judas Priest
BEST ROCK INSTRUMENTAL PERFORMANCE
"A Day in the Life," Jeff Beck
BEST ROCK SONG
"Use Somebody," Kings of Leon
BEST ROCK ALBUM
21st Century Breakdown, Green Day
BEST ALTERNATIVE MUSIC ALBUM
Wolfgang Amadeus Phoenix, Phoenix
BEST FEMALE R&B VOCAL PERFORMANCE
"Single Ladies (Put a Ring on It)," Beyonce
BEST MALE R&B VOCAL PERFORMANCE
"Pretty Wings," Maxwell
BEST R&B PERFORMANCE BY A DUO OR GROUP WITH VOCALS
"Blame It," Jamie Foxx and T-Pain
BEST TRADITIONAL R&B VOCAL PERFORMANCE
"At Last," Beyonce
BEST URBAN/ALTERNATIVE PERFORMANCE
"Pearls," India.Arie and Dobet Gnahore
BEST R&B SONG
"Single Ladies (Put a Ring on It)," Beyonce
BEST R&B ALBUM
Blacksummers' Night, Maxwell
BEST CONTEMPORARY R&B ALBUM
I Am...Sasha Fierce, Beyonce
BEST RAP SOLO PERFORMANCE
"D.O.A.," Jay-Z
BEST RAP PERFORMANCE BY A DUO OR GROUP
"Crack a Bottle," Eminem, 50 Cent, and Dr. Dre
BEST RAP/SUNG COLLABORATION
"Run This Town," Jay-Z, Rihanna, and Kanye West
BEST RAP SONG
"Run This Town," Jay-Z, Rihanna, and Kanye West
BEST RAP ALBUM
Relapse, Eminem
BEST FEMALE COUNTRY VOCAL PERFORMANCE
"White Horse," Taylor Swift
BEST MALE COUNTRY VOCAL PERFORMANCE
"Sweet Thing," Keith Urban
BEST COUNTRY PERFORMANCE BY A DUO OR GROUP WITH VOCALS
"I Run to You," Lady Antebellum
BEST COUNTRY COLLABORATION WITH VOCALS
"I Told You So," Carrie Underwood and Randy Travis
BEST COUNTRY INSTRUMENTAL PERFORMANCE
"Producer's Medley," Steve Wariner
BEST COUNTRY SONG
"White Horse," Taylor Swift
BEST COUNTRY ALBUM
Fearless, Taylor Swift
BEST COMEDY ALBUM
A Colbert Christmas: The Greatest Gift of All, Stephen Colbert
BEST COMPILATION SOUNDTRACK ALBUM FOR MOTION PICTURE, TV, ETC
Slumdog Millionaire
BEST SCORE SOUNDTRACK ALBUM FOR MOTION PICTURE, TV, ETC
Up
BEST SONG WRITTEN FOR MOTION PICTURE, TV, ETC
"Jai Ho" (From Slumdog Millionare), Gulzar, A.R. Rahman, and Tanvi Shah
PRODUCER OF THE YEAR (NON-CLASSICAL)
Brendan O'Brien
BEST REMIXED RECORDING
"When Love Takes Over (Electro Extended Remix)," David Guetta (David Guetta Featuring Kelly Rowland)
BEST SHORT FORM MUSIC VIDEO
"Boom Boom Pow," Black Eyed Peas
BEST LONG FORM MUSIC VIDEO
The Beatles Love — All Together Now, Various Artists