Photos of all the Celebrities at the Coachella Festival 2010 including Agyness Deyn, Peaches Geldof, Katy Perry
Celebrities Congregate in California for Coachella 2010!
Celebrities are sunning themselves in California at the moment for the Coachella Festival. Agyness Deyn showed off her newly shaven head as she hung out with Pixie Geldof and some other friends, while Cougar Town's Busy Philipps kept the sun off her face in shades and a hat. Matt Smith hung out with some buddies including Andrew Garfield, while Kelly Osbourne accessorised her lavender hair with a cute dress and her gorgeous man Luke Worrell. Peaches Geldof made her first public appearance since losing her Ultimo contract with her protective man Eli Roth. Other stars included Katy Perry, Jay-Z, Dave Grohl, Anne Hathaway, Kate Bosworth, Pink, Zooey Deschanel and many more!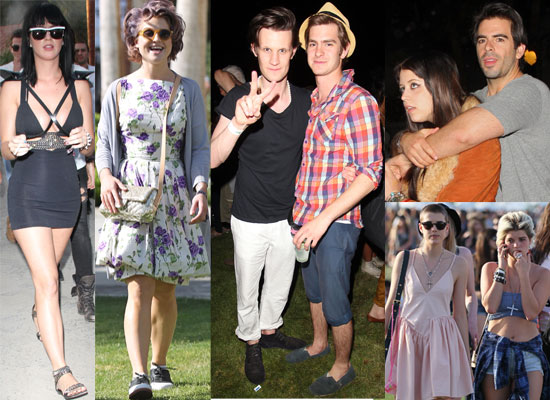 To see more photos from Coachella, just read more.
Images include: Jay-Z, Luke Worrell, Kelly Osbourne, Katy Perry, Kate Bosworth, Peaches Geldof, Eli Roth, Busy Philipps, Agyness Deyn, Camilla Belle, John Mayer, Whitney Port, Paris Hilton, Nicky Hilton, Jason Statham, Isabel Lucas, Anne Hathaway, Mischa Barton, Matt Smith, Andrew Garfield, Pixie Geldof, Zooey Deschanel, Dave Grohl, Whitney Port.