Photos and excerpts from Damon Albarn's interview in Paste magazine
Damon Talks of Tuneful Travels
Damon Albarn — of Blur, Gorillaz and The Good The Bad and The Queen — has spoken to Paste magazine this month about his world travels and the musical inspiration he's gleaned on his journeys. Here's a few excerpts from his interview: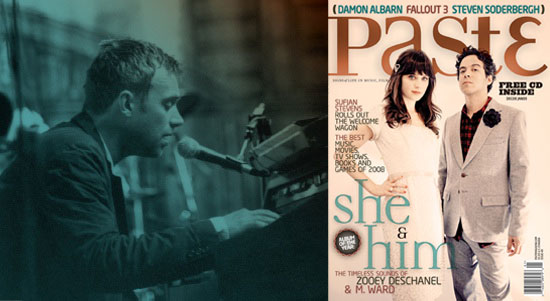 On our new eating habits in the UK: "Do you know we're eating squirrels in England? It's become a new lean-meat sensation."
On his travels to write Monkey: Journey to the West, the score he wrote for the Chinese opera: "We heard a lot of tribal music up in the mountains, where these people get out their blades of grass and start playing these strange and ancient grass-generated tunes. It felt very organic."
On recording with a team of Chinese musicians and keeping it traditional: "I was looking at a five-point star and I put the notes of the pentatonic to each point on the star. I had this great image of stars rotating. It was a very simple music system that could alleviate some of the anxiety of pastiching it."
On payoffs: "Sometimes you hit the ball true, and you do really well. It's like, what do you do at that point? What do you do when you make money? It's all compost. Money should be compost."
On the world music section of record stores: "World music. I don't subscribe to that. It's all music. It's a very bad tagline because it does suggest that we're somehow living on a different planet."
The new issue of Paste magazine — featuring Zooey Deschanel and M. Ward on the cover — is out now, and you can read the rest of Damon's interview in there!