Photos from the 2010 Brit Awards Show Including Robbie Williams, Lady GaGa, Jay-Z, Alicia Keys, Lily Allen, Cheryl Cole,
What a Show — The Brits 30th Birthday Goes Off With a Bang!
It's over for another year! Lily Allen kicked off the Brit Awards show tonight with a performance of "The Fear" and Robbie Williams closed it with a long medley of his hits, including an old Take That track "Everything Changes" after picking up the Outstanding Contribution award. The performances were fantastic this year, from JLS flying on wires, fab duets from Jay-Z and Alicia Keys, and Florence and the Machine and Dizzee Rascal, Lady GaGa wowing everyone with her out there performance and Cheryl Cole singing "Fight For This Love" after all the personal upset she's had with hubby Ashley Cole recently.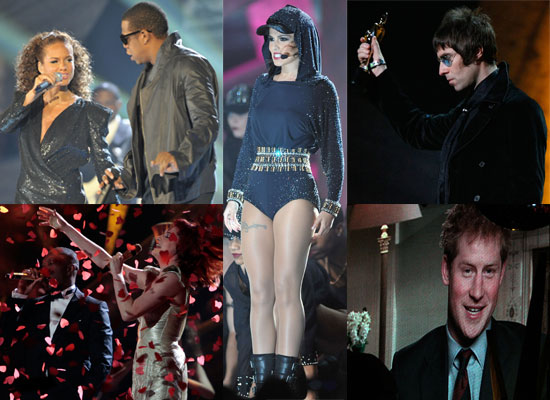 Liam Gallagher gave away his award and microphone after collecting an album recognition award for Oasis' What's the Story Morning Glory, and Kasabian also rocked the arena. There was a wide range of presenters that included Courtney Love, Sam Fox, Geri Halliwell, Noddy Holder, Jonathan Ross, Idris Elba and Alan Carr, while the show itself was hosted by Peter Kay. Did you watch tonight? What did you think? Let me know!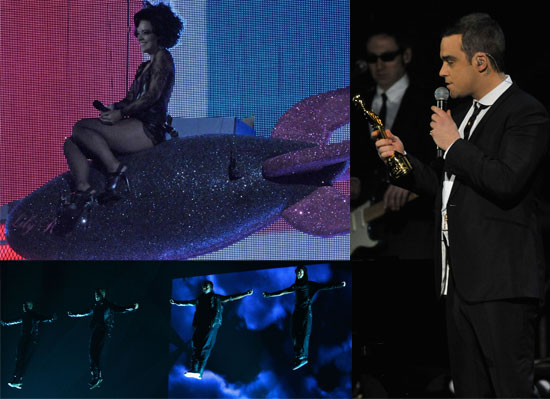 To see more photos of the Brit Awards show, just read more.