Photos from the Press Room Plus Full List of Winners from the BAFTA Awards 2010 Including Winners Kristen Stewart & Colin Firth 2010-02-21 13:50:11
All The Winners at the BAFTAs 2010!
The Hurt Locker took six awards at the BAFTAs tonight, while Colin Firth, Carey Mulligan, Mo'Nique and Christolph Waltz took the big four acting trophies. Kristen Stewart took home the Orange Rising Star Award, as voted for by the public, while Fish Tank won outstanding British film. Check out all the winners below!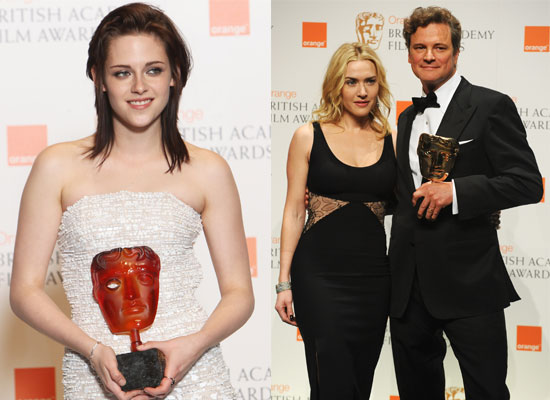 To see the full list of BAFTA winners and many more photos backstage from the press room, just read more.
Best Film
The Hurt Locker
Outstanding British Film
Fish Tank
Outstanding debut by a British writer, director or producer
Duncan Jones (Moon)
Leading Actor
Colin Firth (A Single Man)
Leading Actress
Carey Mulligan (An Education)
Supporting Actor
Christoph Waltz (Inglourious Basterds)
Supporting Actress
Mo'Nique (Precious)
Director
Kathryn Bigelow (The Hurt Locker)
Original Screenplay
Mark Boal (The Hurt Locker)
Adapted Screenplay
Jason Reitman, Sheldon Turner (Up In The Air)
Film Not In The English Language
A Prophet
Animated Film
Up
Music
Up
Cinematography
The Hurt Locker
Editing
The Hurt Locker
Production Design
Avatar
Costume Design
The Young Victoria
Sound
The Hurt Locker
Special Visual Effects
Avatar
Make Up & Hair
The Young Victoria
Short Animation
Mother Of Many
Short Film
I Do Air
The Orange Rising Star Award (voted for by the public)
Kristen Stewart
Images include: James Corden, Colin Firth, Terry Gilliam, Christoph Waltz, Duncan Jones, Anna Kendrick, Aaron Johnson, Claire Danes, Lee Daniels, Anil Kapoor, Matt Dillon, Mackenzie Crook, Nick Frost, Andrea Arnold, Rebecca Hall, Kristen Stewart, Mark Boal, Noel Clarke, Kathryn Bigelow, Clive Owen, Kate Winslet, Guy Pearce, Carey Mulligan, Pete Docter, Mickey Rourke, Tahar Rahim, Matthew Goode, Romola Garai.