Picture of David Arquette and Courteney Cox Who Recently Separated
Courteney Cox and David Arquette Separate After 11 Years of Marriage!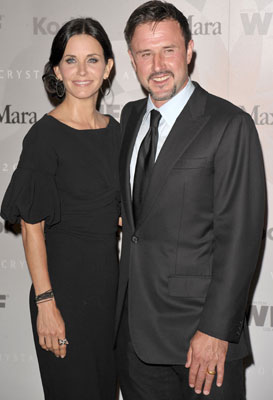 Courteney Cox and David Arquette's marriage is apparently on the rocks. According to TMZ, the two separated months ago and the story is coming out now since photos surfaced of a woman who claims to have slept with David. The timing is particularly surprising as Courteney and David spent the Summer filming Scream 4 together and she was glowing about him on Jimmy Kimmel only a few weeks ago. His good friend Ben Harper filed for divorce from his wife, Laura Dern, over the weekend, though according to sources Courteney and David may be trying to salvage their relationship.
Courteney and David have been together since 1995 and tied the knot in 1999. Hopefully whatever happens they're able to keep it civil for their daughter Coco's sake.
Courteney and David released the following statement: "We have agreed to a trial separation that dates back for some time. The reason for this separation is to better understand ourselves and the qualities we need in a partner and for our marriage. We remain best friends and responsible parents to our daughter and we still love each other deeply. As we go through this process, we are determined to use kindness and understanding to get through this together. We are comfortable with the boundaries that we have established for each other during this separation and we hope that our friends, family, fans and the media also show us respect, dignity, understanding and love at this time as well."