Pictures of 2010 Spike Scream Awards Kristen Stewart, Blake Lively, Ryan Reynolds, Anna Paquin, Alexander Skarsgard
The 2010 Spike Scream Awards Celebrate Sexy Ladies and Smoking Hot Guys
The ladies stayed neutral on the Spike Scream Awards red carpet in LA on Saturday night. Nina Dobrev arrived black while Nikki Reed chose a fun one shoulder Alice and Olivia LBD. Neve Campbell represented the Scream franchise in a short, sparkly number and Anna Paquin stopped for a picture without her carpet companion Stephen Moyer to show off her sexy dress and Brian Atwood pumps. Presenter Blake Lively broke up all the black with a gray Lanvin gown on her way into the event. Check out PopUS's red carpet video for interviews with Nikki, Jackson Rathbone, Emma Roberts and more!
Things were a little more colorful inside with Megan Fox presenting in a peach mini and Kristen Stewart wearing bright white as she accepted two awards for Twilight. It was the vampires from True Blood that ruled the stage, though, as Alexander Skarsgard beat out Stephen Moyer for Best Horror Actor and their HBO hit took home the Best TV Show win. His girlfriend Kate Bosworth supported him from backstage and celebrated with his costars. The gang from Vampire Diaries, Nina, Ian Somerhalder, and Paul Wesley, presented Anna Paquin with Best Horror Actress. Halle Berry turned up the heat in a gold sequin dress and things got even hotter as Neve, David Arquette, Emma Roberts, and director Wes Craven introduced a scary clip from Scream 4. Ryan Reynolds rounded out the night's hottest men as his Green Lantern won Most Anticipated Movie. The show also paid tribute to past hits with a 25th anniversary celebration of Back to the Future and funny look at Bill Murray reprising his role in Ghost Busters.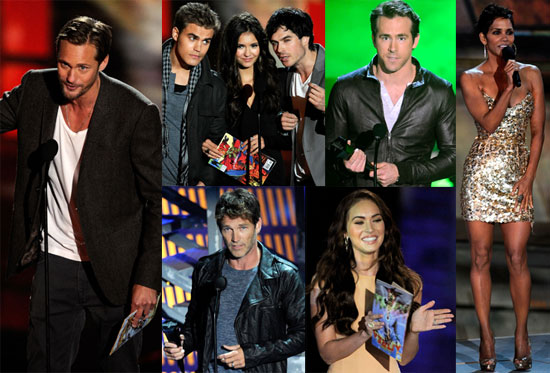 To see LOTS more pictures from the red carpet and stage, just read more.
Images include: Kristen Stewart, Blake Lively, Ryan Reynolds, David Arquette, Jackson Rathbone, Nikki Reed, Emma Roberts, Sigourney Weaver, Kelly Osbourne, Michael J. Fox, Halle Berry, Alexander Skarsgard, Anna Paquin, Stephen Moyer, Neve Cambell, Nina Dobrev, Ian Somerhalder, MIA, Paul Wesley, Alison Brie, Rutina Wesley, Bill Murray, James Cameron