Pictures of 2011 Oscar Winners Natalie Portman, Colin Firth, Melissa Leo, and Christian Bale 2011-02-28 00:16:29
Natalie, Colin, Christian, and Melissa Win Big at the Star-Studded Oscars!
James Franco and Anne Hathaway kicked off the Oscars with a pre-recorded tour through the year's best film nominees, then they took the stage for a few live jokes. Their families even got in the act, with Anne's mother standing up in the crowd to tell her to stand up straight, and James's occasionally foul-mouthed grandmother expressing her excitement at "seeing Marky Mark!" Tom Hanks was on hand to announce a few early winners, then Kirk Douglas presented the best actress in a supporting role honour to a truly surprised Melissa Leo. Her speech was heartfelt after a grueling award season, though she caused the censors some alarm by uttering the F-word. She later, though, apologized profusely for the slipup. Don't miss all our press room updates including Natalie Portman talking about her baby!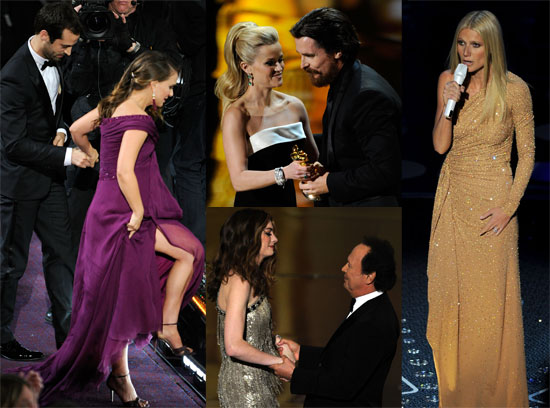 Justin Timberlake and best-dressed Mila Kunis announced the animated awards before Javier Bardem and Josh Brolin stepped out in matching white jackets to present Aaron Sorkin with best adapted screenplay for The Social Network and further writing honours to the man behind The King's Speech. Anne Hathaway ditched her dress for a pantsuit to joke with Hugh Jackman during a musical number, and James Franco dressed as Marilyn Monroe, pink gown, blonde hair and all, to introduce Helen Mirren and Russell Brand. A stunning Giorgio Armani clad Reese Witherspoon stepped out to open the envelope containing the name of the best actor in a supporting role winner — Christian Bale won for his role in The Fighter, and after giving a shout-out to the real-life Dicky Ecklund, he teared up when telling his wife she's his mast in the storm of his life. Fellow Australians Nicole Kidman and Hugh Jackman were up next as presenters, followed by Scarlett Johansson and Matthew McConaughey handing out the best sound mixing honours. Anne enjoyed many costume changes and wore seven glamorous gowns, everything from Valentino to Lanvin, and weigh in on which was her best!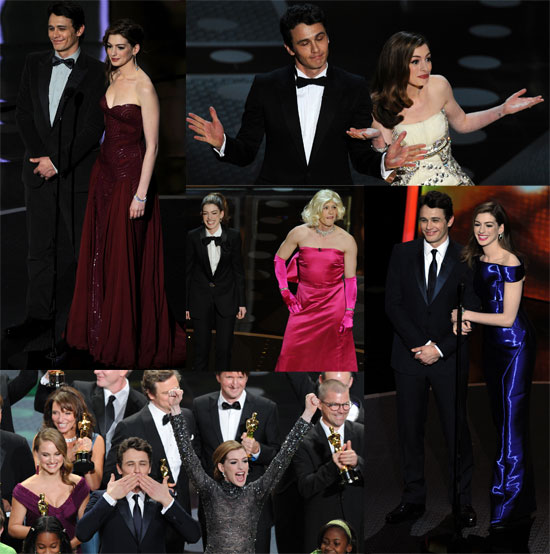 Mandy Moore was soon on stage, having changed from her gold Monique Lhuillier into a strapless blue number, to perform a track from Tangled nominated for best original song with her costar Zachary Levi — Gwyneth Paltrow later sang a number from Country Strong, but Randy Newman ended up taking honours for his music in Toy Story 3. Amy Adams and Jake Gyllenhaal teamed up to present the best short honours before the much-anticipated Twilight moment, which was an auto-tuning the movies and our favourite Twilight stars. Sherlock Holmes buddies Jude Law and Robert Downey Jr. joked about RDJ's checkered past together on stage, then Celine Dion took the stage to sing during the "In Memoriam" montage.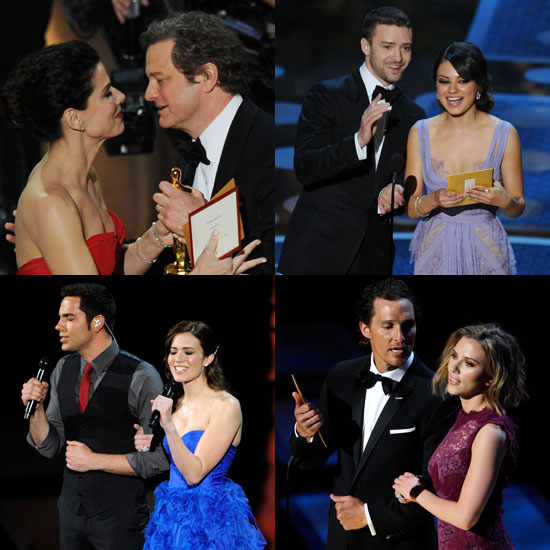 Subtle sparkling Halle Berry had the microphone afterward to say a special tribute to legendary actress Lena Horne. The big awards came quickly next, with Tom Hooper clinching directing honours for The King's Speech and mentioning that he shares "a triangle of man love" with his stars Colin Firth and Geoffrey Rush. Jeff Bridges presented Natalie Portman with her best actress statue, and the Black Swan star tearfully thanked her "love" Benjamin Millepied for giving her the best role yet — becoming a mother. Sandra Bullock handed off the best actor gold man to Colin Firth, who managed to repress his urge to dance long enough to get out his words of thanks. Love for his movie kept coming, as it even picked up the best picture! This was another great night for Hollywood and a year of film — make sure to catch up on all our coverage from the press room, fashion and beauty news, and stay tuned for all the action from the afterparties!
Check out all the pictures, just read more.