Pictures of Amelle Berrabah Who is on a Break From Sugababes, Sugababes Amelle in Health Clinic With Nervous Exhaustion
Amelle on a Break From Sugababes Due to Exhaustion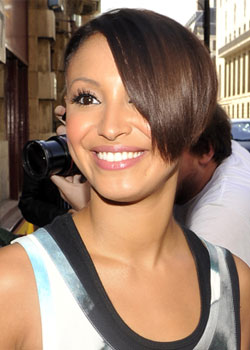 Heidi Range and Jade Ewen have just revealed on their MySpace blog Amelle Berrabah is taking a break from the Sugababes:
"It seems that with all the recent events in the band right up to Jade joining us a few weeks ago, the stress over a period of months has unfortunately taken its toll on Amelle and she is now suffering from a severe bout of nervous exhaustion.
For the next 3 weeks, Amelle will be staying at a private health clinic in Europe where she will be able to rest and recuperate under expert supervision. We're expecting her to return to work in full health by the beginning of November... She has the love and support of everyone around her including family, friends, bandmates and the label and we're sure our fans will join us in wishing her a speedy recovery."
The girls added they have cancelled their new lineup's first live performance in Leeds and a German TV show appearance, as they "really do have to treat Amelle's welfare as our priority at times like this". To find out what Heidi and Jade each had to say, just read more.
Heidi wrote:
"Both Amelle and I have been through a very traumatic time together in recent months and particularly over the past few weeks. Having the opportunity to move forward with Jade was a major factor in us both deciding to carry on as Sugababes. And judging from the thousands of well wishes we have received from you, our fans, we are delighted that we made the right decision. However, the months leading up to that decision certainly took their toll, especially on Amelle, and it seems like it's now all caught up with her."
Jade wrote:
"We've got a hectic schedule of promotional commitments ahead of us to launch our next single on 9th Nov and the album on 23rd Nov. We're about to go into the run up to Christmas, so we're glad that Amelle is getting the right support now to help her return to work at such a busy time."
Get well soon Amelle.