Pictures of Angelina Jolie in Stylist Magazine
Angelina Says More on Shiloh's Style and Alone Time With Brad
Angelina Jolie was in Cancun last month to promote her movie Salt, and while there she made time for an interview with the British fashion publication Stylist. Her kids Shiloh, Maddox, Pax, and Zahara also made the trip to Mexico, and they later joined her for the rest of her worldwide press tour. The family is now in Northern California for a few weeks as Brad Pitt works on Moneyball. Angelina spoke to the magazine about her family life, how she and Brad manage to fit in alone time, and Shiloh's much-discussed style. She said: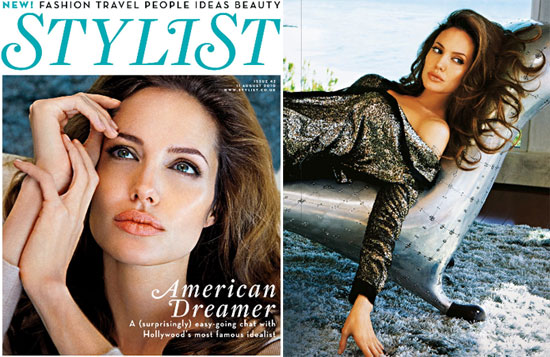 On date nights and alone time with Brad: "Yeah, we just have to schedule it. We don't normally have anyone spend the night with our family, so once every week or two weeks, we'll ask somebody to spend the night, so we can go and be alone together. We just go to another part of the house and lock the door. We have date nights, absolutely, you have to if you have children! Sometimes we go out, but we both miss the kids so we don't like to go far."
On Shiloh's style: "It's not my choice. I have a very strong willed four-year-old girl who tells me what she wants to wear and I let her be who she is. People look at kids and think they should wear certain types of clothes; I think children should wear what they want and express themselves, so we give them different options of things. Zahara dresses very much like a girl, very pink and flowery, very feminine. Shiloh cried and said, 'Please cut my hair off, I don't want to have long hair.' I'm not going to leave it long because somebody thinks I should," she says "I want to do what's in her head and what's in her heart is to dress like that. I think it's beautiful."
On meeting Brad during Mr. and Mrs. Smith: "It didn't begin on the film set; we became friends on the film set, but it began after. And at a certain age, having gone through enough experiences, I think you know. It wasn't courageous, it was more comforting to have found my family."
On learning from her kids: "They're so knowledgeable, so self-aware, gracious. And they're all different. One of them is a natural leader and has this kind of strength, and one of them has extraordinary grace and elegance and femininity that I didn't realize you could be born with. Like every mother, I'm learning patience and all these wonderful things from them and I'm just so curious to see who they're going to be when they get older."
Photos courtesy Patrick Demarchelier for Stylist
To read what Angelina has to say about needing to be more laid back, her cooking skills, and quitting acting, just read more.


On being laid back: "No, I'm not at all. It's a joke in the house, I'm constantly on fire. When I wake up in the morning I jump out of bed — partly because I have a lot of children. And I pace when I'm on the phone. It's actually very hard for me to calm down. It's good for me to have a lot of chaos in my home."
On her cooking skills: "I'm getting better. My kids are very patient. When I try to cook they go overboard and say, 'This is really good Mom!' We go through so much food in our house. We joke about it."
On quitting acting: "I didn't say quitting, I just think I'd do less. I love acting and I'm grateful that I have the job, but I think I'll do some things in the next few years and then I'll just really enjoy my family. Once my kids get to a certain age, I'll just travel with them and be with them and get better at cooking and things like that."