Pictures of Ben Affleck, Matt Damon, Blake Lively, Jon Hamm at Fenway Park Premiere of The Town 2010-09-15 07:00:00
Ben Affleck and Matt Damon Take Boston Together at Fenway Premiere of The Town!
Even historic Fenway Park got red carpet ready for the Boston premiere of Ben Affleck's second directorial project, The Town, on the Red Sox home field last night. Ben had the support of his cast, along with his hometown friend, Matt Damon. While the stars of the film were dressed up, Matt and pregnant Luciana looked ready for a ballgame in jeans. Blake Lively's boyfriend Penn Badgley joined her for the journey up from NY after Regis and Kelly yesterday morning. Jon Hamm also had his partner Jennifer Westfeldt on his arm, while Jeremy Renner and Rebecca Hall were solo. Ben's wife Jennifer Garner is home in LA with their daughters, though she stopped by TIFF with him last weekend. Ben recently spoke about what it means to make Boston films, saying, "Boston is a place that — and I was the same way, living there — that likes to see itself reflected, likes its own, likes to see a reflection of its values. New York doesn't so much care about a New York movie. . . But Boston knows. Boston knows if you're from there. . . It means something to them."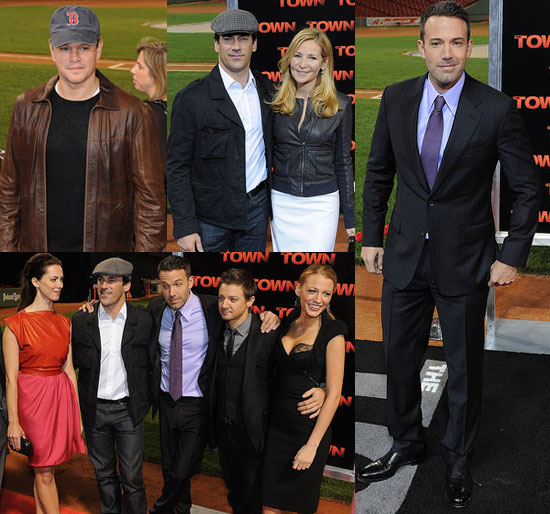 To see more of Ben, Matt, Jon, Blake and others just read more.
Images include: Ben Affleck, Matt Damon, Chris Cooper, Rebecca Hall, Jon Hamm, Jeremy Renner, Jennifer Westfeldt, Blake Lively, Penn Badgley