Pictures of Blake Lively, Gisele Bundchen, Anna Wintour, Bar Refaeli at Fashion's Night Out Runway Show 2010-09-08 00:30:00
Blake, Gisele, Anna, and Bar Help Kick Off NYFW With the Fashion's Night Out Catwalk Show!
Fashion's Night Out takes over cities around the world on Friday, and some very stylish stars helped kick things thing off at the catwalk show yesterday evening in Manhattan. Blake Lively and Leighton Meester posed and represented the Gossip Girl cast, who will be taking things to an even more couture-filled level when the series kicks off season four in Paris next Monday. Leighton twittered her excitement for fashion week on her way. FabUK wants to know who you think was best dressed: Blake or Leighton? Bar Refaeli looked stunning in her flirty party dress while Ashley Tisdale took a break from shooting new series Hellcats and promoting it before the US premiere tonight. FNO marks the official start of New York Fashion Week and Fab US, Pop US, Bella and the newly-redesigned Fashionologie will all be reporting from the shows, parties, and events the whole time!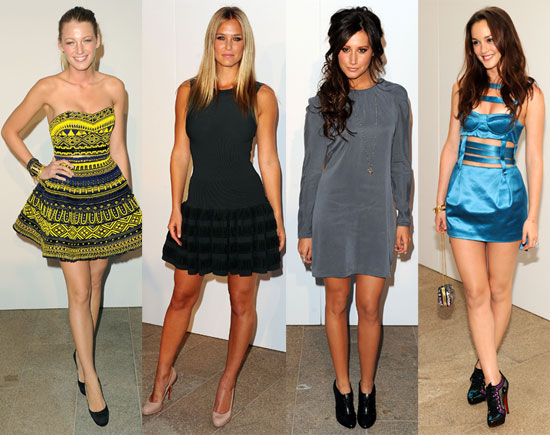 Once inside, Blake took her seat next to Anna Wintour, who the actress recently gushed about in Marie Claire. The friends chatted throughout the giant exhibition, and Pharrell gave a surprise performance during the show, which included appearances by some of the world's biggest supermodels like Gisele Bundchen. Gisele sported the FNO t-shirt, which is also available in your closet on PopSugar's Retail Therapy with all proceeds going to the New York City AIDS fund! You can also get your store ready for fashion week with all the new themed goodies so play now! Gisele changed into a gown to finish off the spectacular event, as she and a few other handpicked models climbed onto a double-decker tour bus and rode off into the night. The action is just getting started so stay tuned for the news, trends, runway pictures, and famous faces throughout NYFW!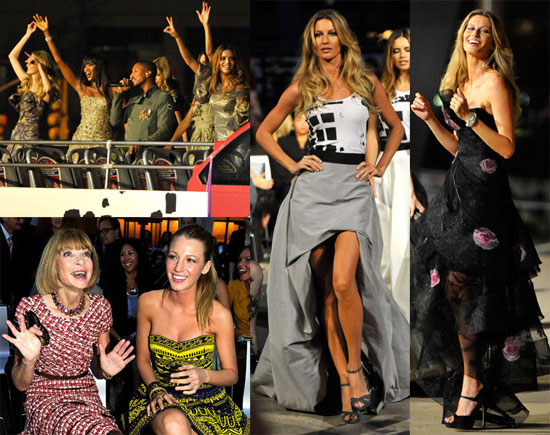 To see lots more from the night including Diane Von Furstenberg, Naomi Campbell, Karolina Kurkova, Alessandra Ambrosio, Pharrell, and others, just read more.
Images include: Bar Refaeli, Blake Lively, Ashley Tisdale, Anna Wintour, Gisele Bundchen, Andre Leon Talley, Vera Wang, Roger Federer, Leighton Meester, Diane Von Furstenberg, Naomi Campbell, Karolina Kurkova, Alessandra Ambrosio, Pharrell, Serena Williams