Pictures of Blake Lively on Letterman and Filming Gossip Girl With Penn Badgley
Blake Lively Films With Penn and Gossips With Letterman
Blake Lively was busy in NYC yesterday. She shot Gossip Girl scenes with Penn Badgley during the day, playing around with an umbrella while the rain fell. Blake was dressed more casually than the last time we saw her on set, when she got decked out in Zuhair Murad and shared smooches with costar Sam Page. There were no kisses with Penn this time, though.
In the evening, Blake gave another interview to promote The Town. She wore a lowkey outfit of jeans and heels before changing into a sparkly black Elie Saab dress for Dave Letterman's show. Blake has impressed Alec Baldwin with her fashion choices, as he thinks "she's a really really gorgeous woman, very stylish". He'd also like to see her without clothes, as during his hosting stint at PETA's Humanitarian Awards this weekend, he named Blake the woman he'd most like see in naked in the charity's "I'd Rather Go Naked Than Wear Fur" ads.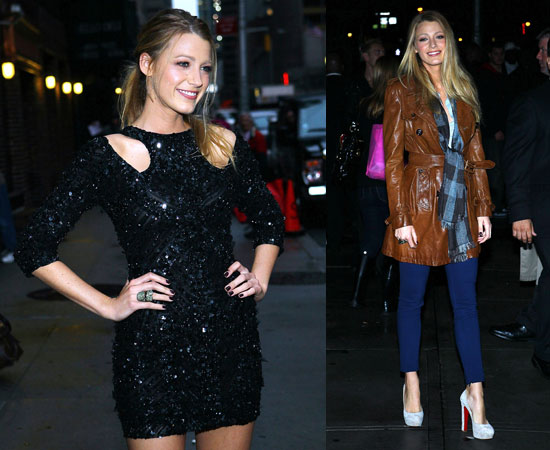 To see more pictures of Blake, just read more.