Pictures of Bonnie Wright and Jamie Campbell Bower Who Are Reportedly Engaged See Engagement Ring
Are Bonnie Wright and Jamie Campbell Bower Engaged?
UPDATE: Following our report on 23 April (below) that Bonnie and Jamie are rumoured to be engaged, more sources have come forward confirming the news. Still no official word yet, but with Jamie reportedly responding to the source on Twitter, it looks like there could be soon.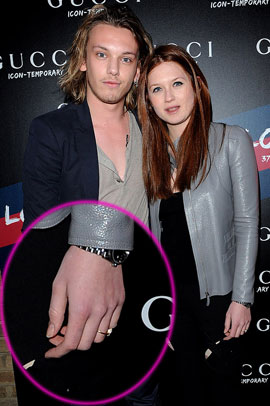 Bonnie Wright and Jamie Campbell Bower are reportedly engaged! According to reports, the Harry Potter costars were overheard talking about their engagement at the Gucci party on Wednesday. Although there is no official confirmation yet, it certainly does look like Bonnie is wearing a gorgeous ring on her finger at the party!
They've kept us guessing about their relationship ever since we first spotted them together back in November, but they've made more and more red carpet appearances together and have happily posed for pictures. We'll see them onscreen when Harry Potter and the Deathly Hallows comes out, and it sounds like we'll see more of them offscreen too. Congratulations!