Pictures of Cameron Diaz on InStyle US July Cover in Swimwear
Cameron Diaz Shows Off Her Hot Bod For InStyle US
Cameron Diaz looked amazing in her tiny bikini over the weekend, and she's displaying her great body on InStyle US's July cover. The actress wears a variety of outfits for the accompanying shoot, including the Balmain dress from Demi Moore's W spread. She's spoken about life, loss and sex with British Vogue. Cameron's been busy promoting Knight and Day with Tom Cruise at award shows and shirtless ads, but she found time to tell InStyle US about her plans for a family, aging gracefully and her personal life. Here are highlights: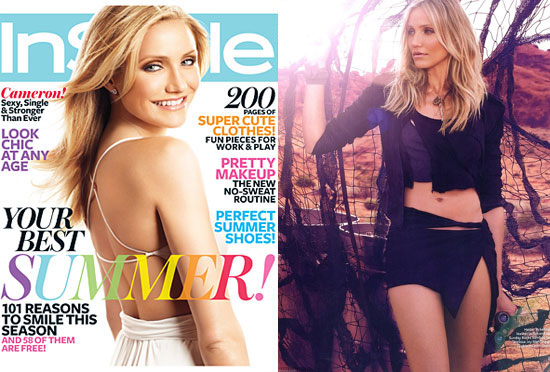 Cameron on her personal life: "It's one thing when I answer questions for myself — it's another thing when I answer questions and someone else is involved . . . It's not fair to the other people in that equation."
Cameron on embracing her age: "The experience of growing older is that you become more introspective. You learn who you are and what you want. When you're in your 20s, you have no idea what the hell's going on or who you are or how the world works."
To find out what Cameron said about family and parenthood, just read more.
Cameron on family: "I can be a pretty good aunt, but whether I'm a good aunt or a crappy aunt is really not remotely the same question as me being a good parent or a crappy parent . . . It doesn't quite have the same impact."
Cameron on parenthood: "Having children changes your life drastically, and I really love my life. Children aren't the only things that bring you gratification and happiness, and it's easier to give life than to give love, so I don't know. That kind of change would have to be either very well thought out, or a total mistake — a real oops!"