Pictures of Daniel Radcliffe, Catherine Zeta-Jones, Katie Holmes, Scarlett Johansson, Beyonce, JayZ, Helen Mirren at Tony Awards
British Stage Stars Celebrate Catherine's CBE at Tony Awards
Stars of the stage were honoured at the Tony Awards at Radio City Music Hall in NYC last night. Catherine Zeta-Jones received the Best Performance by a Leading Actress in a Musical award for A Little Night Music, topping off her exciting weekend following her CBE from the Queen. Her fellow British nominee Jude Law missed out on an award, and skipped the show in favour of a holiday in France with Sienna Miller and his kids. Daniel Radcliffe and Helen Mirren attended the ceremony, as did Cate Blanchett: do you love or hate her look?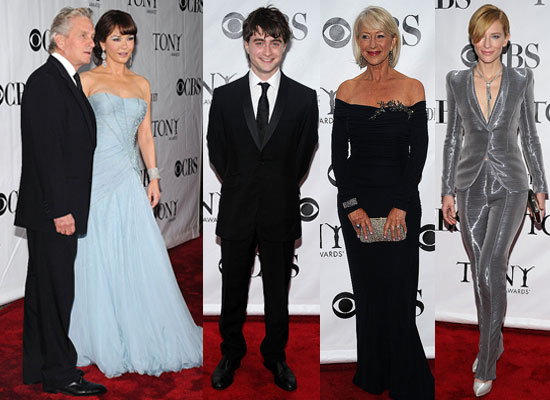 Beyonce and Jay-Z were in the audience after their trip to the UK for the Isle of Wight Festival. Will Smith and Jada took to the stage to present an award, and and Katie Holmes gave Scarlett Johansson her gong for A View From the Bridge. Scarlett's costar Liev Schrieber watched her win alongside Naomi Watts. Glee's Matthew Morrison and Lea Michele performed for the crowd, and Denzel Washington was also honoured with an acting award.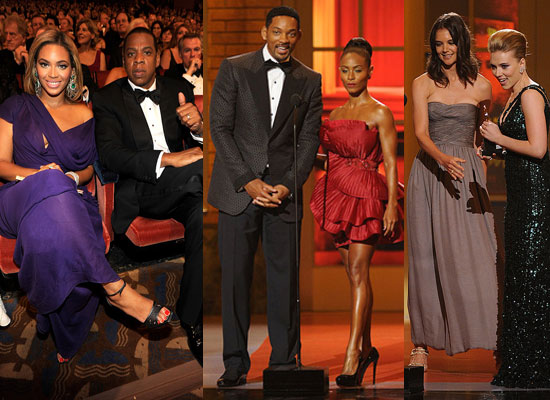 To see more pictures from the Tony Awards, including Ryan Reynolds, Paula Abdul and Kristen Chenoweth, just read more.
Images include: Scarlett Johansson, Liev Schreiber, Ryan Reynolds, Matthew Morrisson, Tony Shalhoub, Katie Holmes, Will Smith, Jada Pinkett-Smith, Helen Mirren, Jay-Z, Beyonce Knowles, Denzel Washington, Michael Douglas, Catherine Zeta-Jones, Kerry Washington, Naomi Watts, Cate Blanchett, Sean Hayes, Paula Abdul, Kristen Chenoweth, Daniel Radcliffe