Pictures of Daniel Radcliffe at Harry Potter and the Deathly Hallows Screening After Spotted With New Girlfriend Olive Uniacke
Pics: Daniel Radcliffe Brings Deathy Hallows to BFI's Movie-Con
Daniel Radcliffe was full of smiles as he opened the first UK screening of Harry Potter and the Deathly Hallows at Movie-Con at BFI Southbank on Saturday. The promotional work is just starting for the Harry Potter cast, with magazine covers and events to mark the 100 day countdown to the release of the final film. Dan was joined by Rupert Grint and Tom Felton for the wrap party, but he's made no more public appearances with his new girlfriend Olive Uniacke since we spotted them strolling in London earlier this month. At the Movie-Con event on Saturday, Dan chatted with Empire Online about the film. Here are the highlights: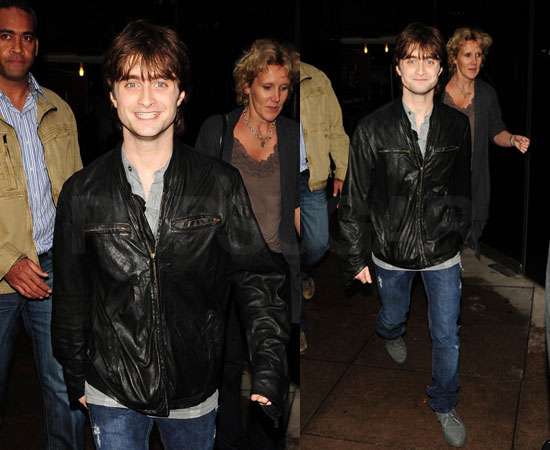 On breaking down filming the last scene: "I've never seen Rupert Grint cry before; it was weird. It was like seeing your Dad cry."
On his upcoming roles: "I'm looking forward to the future. I'm very excited about The Woman In Black. I think James (Watkins) is great; he's going to be the next Chris Nolan I think."
On what role he'd play in a remake of the series: "Sirius if they do it in 30 years, and Dumbledore if they do it in 50. But Sirius is the part that everyone wants; Ian Hart had just read the third book on set of the second movie, and he was kicking himself that he didn't get Sirius. But of course I was glad that went to Gary Oldman, because as you all know he's my true love."