Pictures of Dannii Minogue in January 2011 Marie Claire UK Magazine
Dannii Minogue on Horrific Headlines, Kyliemania and Her Own Success
Dannii Minogue looks gorgeous on the cover of Marie Claire's January issue. She chatted with the mag about her amazing year, her baby Ethan, The X Factor and Cheryl Cole, and looks glam as ever in the accompanying photos. Here are some excerpts from her interview: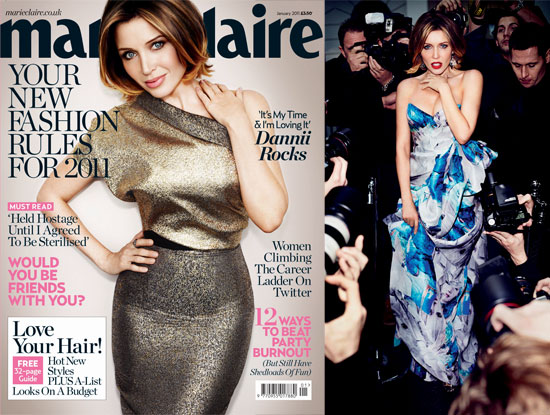 On The X Factor: "I do find it nerve-wracking. Every Saturday night at the beginning of the show when I step out onto the stage, I'm terrified. Not about me, but how everyone's going to get on – whether they'll stuff it up. You just can't help getting really involved with your people. It's their life."
On Kylie: "Can you imagine for years being asked what it's like to be Kylie's sister? The journalist would try asking another couple of questions before embarking on another barrage about Kylie. I would be like, 'If you want to interview her, then here's her number.'"
On bad press: "When I first came over here it was hard because it was Kyliemania. She was this cute little thing and I was the fat, ugly sister. . . There were some horrific headlines. Had I not been confident about myself and my body, I would have been in a load of trouble. . . I'd been very good friends with this girl since primary school. I distinctly remember going into a white hospital room and seeing her lying there, strapped to the bed. I was just a young teenager and it was so horrendous. I watched my friend nearly die from anorexia. There was no headline that someone could write about me that would make me do that to myself."
To read what Dannii had to say about Cheryl Cole, just read more.
On Cheryl Cole: "Cheryl's always been there for me when I've had a hard time. . . [she] said to me the other day, 'I don't know how you're doing all this. I know how crazy it is when all the contestants are running in and out and I have no make-up on. And then I think of you trying to fit in feeding the baby as well.'"
On her popularity: "Yeah, it's come together. I suppose I've endured things when they haven't gone right. I guess it's my turn now to enjoy what is going right."