Pictures of David Beckham Shirtless at His First Match Back For LA Galaxy After Achilles Injury
David Beckham Gets Shirtless For His Return to Football
David Beckham gave us a glimpse of his fit body as he stripped shirtless when he came on as a substitute in the second half of LA Galaxy's match against Columbus Crew in California on Saturday. This was Becks' first match back after his Achilles injury in March, and before the game he told reporters he hopes to play internationally again. In the evening he headed to the House Of Hype's VMA Pre-Party in Beverly Hills. While David's on the West Coast, Victoria's been in NYC showing her new collection at Fashion Week, after partying in London. After his match, David spoke about his injury and his hopes for the future, saying: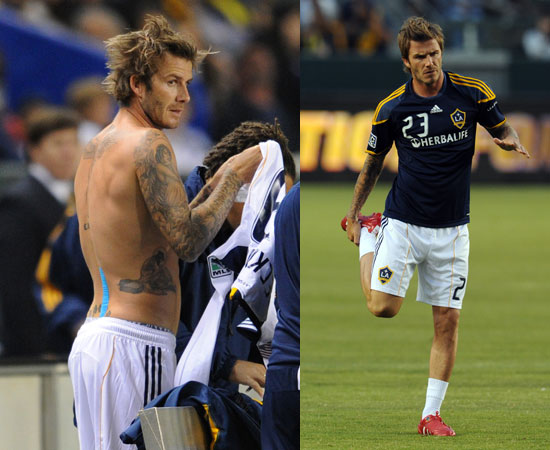 "I'd like to be available to play for England. If I'm fit then I'm sure the manager will consider me [...] As positive a person as I am when I did the injury, doubts go through your mind, 'Am I ever going to play again?'. Being back out there and being fit again makes it sweet [...] It's been a quick recovery and I'm happy with that but I've never been out of the game for such a long time and after being out there 10 minutes, I was dying. I finished strong, though, and I'm happy to come through it."
To see more pictures of Becks, just read more.