Pictures of David Beckham and Victoria Beckham With Gordon Ramsay at Universal City Walk in Hollywood
The Beckhams Are Kids Again With the Ramsays in LA!
David Beckham cuddled up to Victoria as they hung out with Gordon Ramsay while their kids went skydiving at Universal City Walk in Hollywood yesterday. David's been training with LA Galaxy, while Fabio Capello's made comments about David's international career being over. Becks has received support from former England manager Sven Goran Eriksson, and you can show him your love in PopUS's Shirtless Bracket. He is still in demand with English clubs and with EA Sports, who have revealed David as their spokesperson for a fitness game.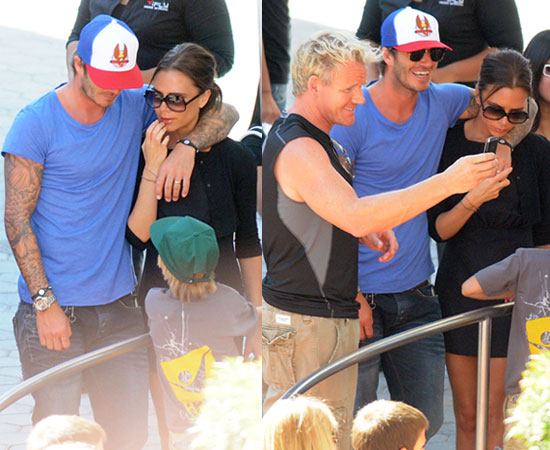 Back in the UK the situation isn't quite so positive, as the couple have had to cut back on staff, and David's sister is going through a tough time. Victoria is gearing up for Fashion's Night Out in NYC, but while she's back home on the West Coast she's enjoying family time with good pals like the Ramsays. David and Gordon hung out at the Teen Choice Awards, and whether it's sporting fixtures or dinners in London, the firm friends always find time to get together.
To see more pictures of David, Victoria and Goron, just read more.