Pictures of Diane Kruger on Allure Magazine July Cover Quotes About Joshua Jackson, Marriage, Beauty Secrets and Fashion
Diane Kruger Talks First Kiss, Beauty Tricks and Marriage
Diane Kruger looks gorgeous in Allure's July issue. The actress went for a sixties bombshell look for the shoot and wore a glam Jason Wu gown, as the magazine reflects on her style evolution. She's been spending lots of time with her beau Joshua Jackson, and she's opened up to the mag about their relationship, her thoughts on marriage, and her first kiss. She also dishes about her nightly beauty routine and fashion. Here are the highlights: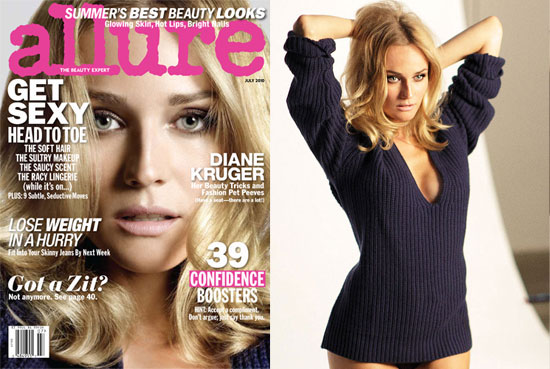 On her first kiss: "I remember the music I kissed to, too, my favorite bad 80's music. 'Hello' by Lionel Richie, Sade, Depeche Mode. I still love that stuff."
Giving up comfort for fashion: "Two years ago, I wore an haute couture gown to the Venice Film Festival, and it had a full-on corset—it was gorgeous, but it was a runway piece, and it hadn't been made for life. The bodice didn't have one of those openings at the bottom. I nearly fainted because it was so tight, and I had to go to the bathroom so badly, but it would have taken an hour to get out of that dress. But! It was soooo gorgeous!"
On her beauty routine: "I must be very careful with my skin from modeling and working under hot lights; I break out easily. I never go to sleep without taking off my makeup."
To hear what she has to say about Joshua and marriage, just read more.


Diane on marriage: "I'm not religious, so that aspect of it means nothing. And don't get me wrong—I believe in commitment. But out of experience I know if that goes away, no paper you have signed will keep you around."
On the perception that she's a stiff German: "People look at me and think, Oh she's from Germany, she looks so composed...but I think I'm a good joke teller, and I like pretty crass jokes."
On what Joshua Jackson thought while visiting her German hometown: "When Josh visited my hometown with me, he said, 'How did you get out of here?"