Pictures of Diane Kruger on the December Cover of Lucky Magazine
Lucky Girl Diane Kruger Rings in the Holidays With Style
The lovely Diane Kruger sparkles on the cover of Lucky's December holiday issue. As the face of Calvin Klein fragrance, she recently shared her favourite beauty advice with BellaUS and now she's divulging the secrets to achieving her chic style. Diane is travelling between projects after promoting her latest film, Inhale, which made its limited stateside release last month. Up next, we'll see her opposite Liam Neeson in the dramatic thriller Unknown early next year. Here are highlights from the magazine: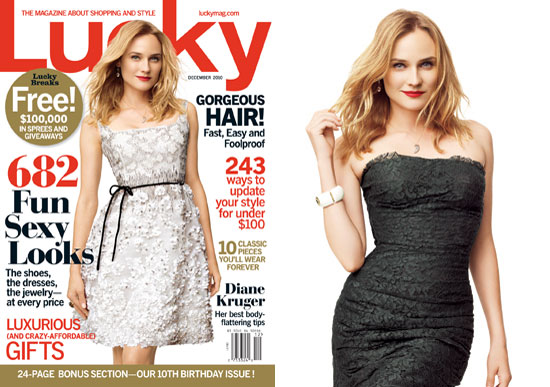 Diane on fashion: "If you have a beautiful dress, that's enough—you don't need much else."
On embracing the look of her characters: "I actually just had my ear pierced, and it still kind of hurts, I love it—but my mom was not so pleased."
Her style evolution: "I look back at pictures of myself from 10 years ago and go, 'What was I thinking?'"
On choosing an Oscar gown: "At the Oscars everyone wears the same strapless princess dress with their hair pulled back. I wanted to wear something different, and Karl Lagerfeld was like, 'Please wear this!' It was his favorite Chanel dress."