Pictures of Eclipse London Premiere Including Ashley Greene, Nikki Reed, Kellan Lutz, Alex Meraz, Xavier Samuel, Booboo Stewart
Tons of Pics: Stars Enjoy Eclipse London Premiere!
The stars were out in force tonight for the UK premiere of Eclipse. The cast gathered together inside the Odeon Leicester Square for a group shot, but walked the red carpet separately. Ashley Greene posed solo, while Nikki Reed cuddled up to Joe Jonas. The gorgeous guys of the film took time to pose with fans, just like their female Twilight costars. Kellan Lutz, Alex Meraz, Xavier Samuel and Booboo Stewart all looked sharp in their suits.
Lots of celebs came out for the premiere. Holly Willoughby matched her dress to the red carpet, and revealed she's Team Edward. Heidi Range was also a lady in red, and another fan of Robert Pattinson's character. Duffy and Kelly Rowland stuck with classic LBDs. Alex Meraz will have been in his element, as he loves British girls, while Xavier Samuel will break a few hearts with his revelation his girlfriend loves Twilight. Check out my red carpet Twitter updates!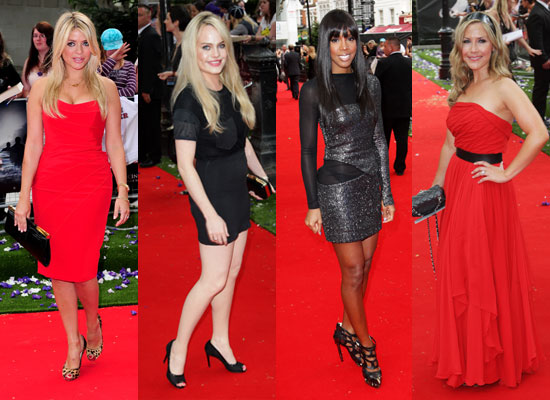 To see LOADS more pics, including Gok Wan, Paloma Faith and Clive Owen, read more.
Images include: Ashley Greene, Nikki Reed, Booboo Stewart, Kellan Lutz, Xavier Samuel, Alex Meraz, David Slade, Holly Willoughby, Gok Wan, Paloma Faith, Heidi Range, Kelly Rowland, Clive Owen, Duffy, Chloe Madeley, Ali Bastian, Joe Jonas, Sinitta, David Hayes