Pictures of Ed Westwick, Michael C Hall, Matt LeBlanc at Showtime and CW TCA Day
Gossip Girl Guys and Friends Shine at CW and Showtime TCA
Following a star-studded party, the TCA rolled on with presentations from Showtime and The CW yesterday. Buzz spent the afternoon with The CW checking out their two new shows, Nikita with Shane West and Maggie Q, as well as Ashley Tisdale and Aly Michalka's Hellcats. Then it was time for Josh Schwartz and Ed Westwick to talk Gossip Girl in Paris! Having given the juiciest tidbits at Wednesday's bash, Ed revealed lots of exciting news including whether or not Taylor Momsen will return and who else will be making a comeback.
Showtime kicked off the morning with The Big C starring Laura Linney and Gabourey Sidibe. The cast of Dexter brought a different tone, as Michael C. Hall gave hints about season five before he sat down with Buzz for an exclusive chat. Last up for the network was Matt LeBlanc's Episodes, in which the Friends star plays a fictional version of himself taking on a new acting gig. Matt was adorable on stage talking about getting recognized as Joey daily and when asked if he was the first pick for the part, he was quick to joke, "Schimmer said no. . .so did Perry and Lisa." Stay tuned to Buzz on Twitter for updates from the panels!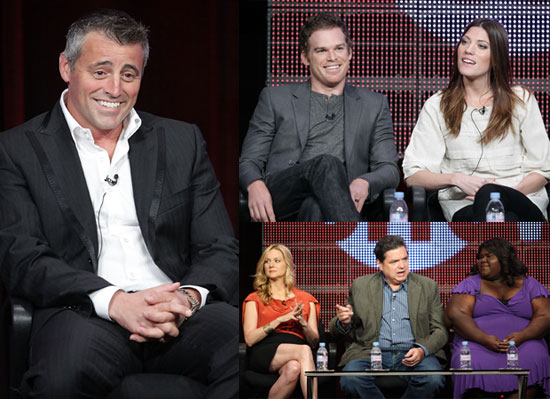 For more pics from the panels, just read more.