Pictures of Ed Westwick in Sydney Revealing He Is Single Does Not Have a Girlfriend Not Tied Down to Jessica Szohr
Ed Westwick Reveals He Is Single Down Under
Ed Westwick went for smart casual style at a Virgin Mobile signing in Sydney today. He looked sexily scruffy when he arrived in Australia at the beginning of the week. The Gossip Girl star chatted with PopSugar Australia about his castmates, his thoughts on England being knocked out of the World Cup, his chest hair, and the Eclipse gang. He also revealed he is single, following speculation about his relationship with Jessica Szohr. Here are highlights: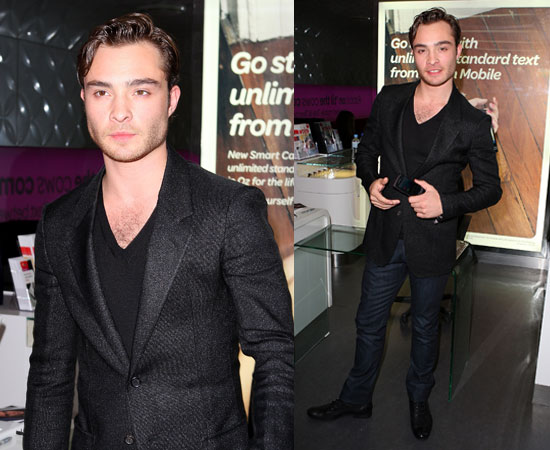 PopSugar Australia: You told BBC Radio earlier this month that you were single—is that still the case?
Ed Westwick: Aww, I mean you know. It's a little like this and a little like that. Look, I'm 23. How tied down can somebody be at 23 these days?
PS Australia: Do you have any celebrity crushes?
EW: Yeah, but they're all married! Scarlett Johansson is always one. Miranda Kerr is kind of one, but somebody told me she just got engaged. I like the older ones, the ones around my age, the Kristen Stewarts of the world don't really do it for me. I'm a man with the eye on the older girl, I'm afraid.
PS Australia: Who has the best American accent—you or Robert Pattinson?
EW: Me.
PS Australia: Do you agree with people who say that England is out of the World Cup because Wayne Rooney waxed his chest?
EW: Did he wax his chest?? Well, I have absolutely no time for Wayne Rooney right now. He should be shot. So there you go. He was terrible in the World Cup. He let us all down.
Check out the full interview over at PopSugar Australia!