Pictures of Eminem, Usher, Mary J Blige, Rihanna, Lady Gaga, Taylor Swift During 2010 MTV VMAs Show
Taylor, Kanye, Chelsea, Rihanna, and Eminem Make For a Memorable VMA Show!
Chelsea Handler played capable host at the 2010 MTV VMAs on Sunday in LA. After the handsome guys and fashionable women hit the white carpet they took their seats for a roller coaster of an evening. After Eminem and surprise guest Rihanna opened the show, Chelsea had Lindsay Lohan's help opening the show. Eminem left and flew back to NYC for his shows with Jay-Z right after his performance, which meant he couldn't accept any of his awards. He and Lady Gaga were the big winners of the night, check out the whole list! Justin Bieber of course had all the girls screaming with his outdoor performance while his mentor Usher showed off his amazing dance moves on stage. Taylor Swift's ballad about Kanye West was one of the most talked-about moments, and she went barefoot to contrast her D&G dress.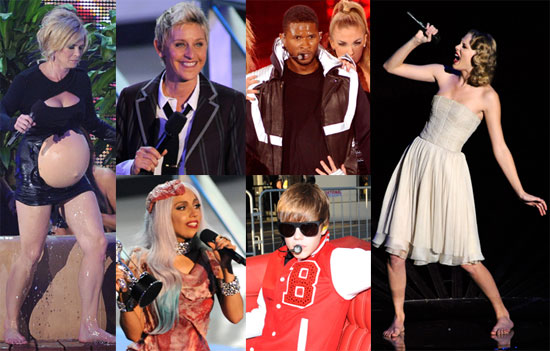 Chelsea got into a hot tub with the cast of Jersey Shore and emerged with a big fake pregnancy belly, but it was Cher's stomach baring outfit that stole the show. Cher stepped out looking like a blast from the past to hand Video of the Year out to Lady Gaga. Katy Perry joined Nicki Minaj to present an award during which Katy joked about meeting her fiance Russell Brand at the 2009 VMAs. Russell didn't accompany Katy this time around, though she brought him on her manicure. Kanye closed the show with his new anthem, "Runaway," in which he called for everyone to "raise a toast to the douche bags" implying that he is one of them after interrupting Taylor last year. Overall it was a fairly tame VMAs as the stars headed out to keep celebrating at all the afterparties.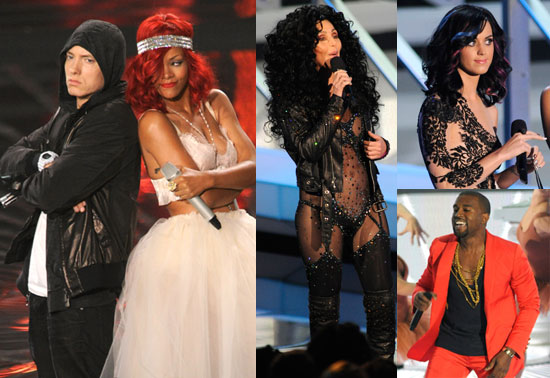 To see more from the show, just read more.