Pictures of England Winning Against Slovenia 1 - 0 in The World Cup in South Africa, David Beckham, Jermain Defoe, Wayne Rooney,
England Get Fired Up in Red To Race into the Last 16 After Win Against Slovenia
We did it! England beat Slovenia 1 - 0 last night in a much better performance than we've seen from the boys since they got out to South Africa for the World Cup. Whether it was wearing red that fired them up or the fact that this was their last chance to make it through, Jermain Defoe scored and kept us in the running. After their preparations this week, David Beckham looked nervous throughout, brightening up considerably when Defoe scored, and celebrating with the players on the pitch after the final whistle blew.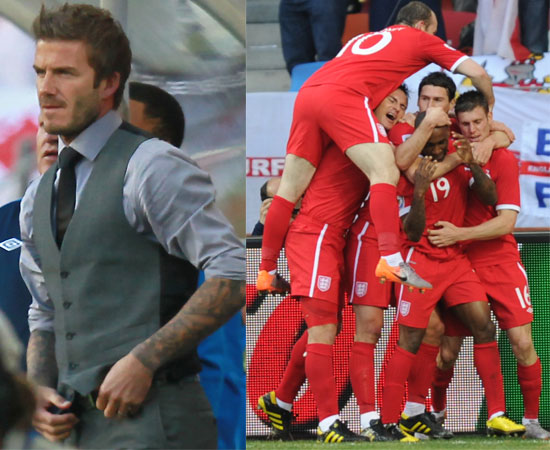 Steven Gerrard looked very pleased with the team's win, following our draws against the USA and Algeria, despite royal support. We were treated to a shirtless Joe Cole, meanwhile Wayne Rooney got a big hug from Fabio Capello, as well as a pat on the head from David. Wayne said he will be fit to play the next match despite reports he was limping. The USA also won their match which puts them at the top of the group, meanwhile we came in second which means we'll be playing Germany on Sunday.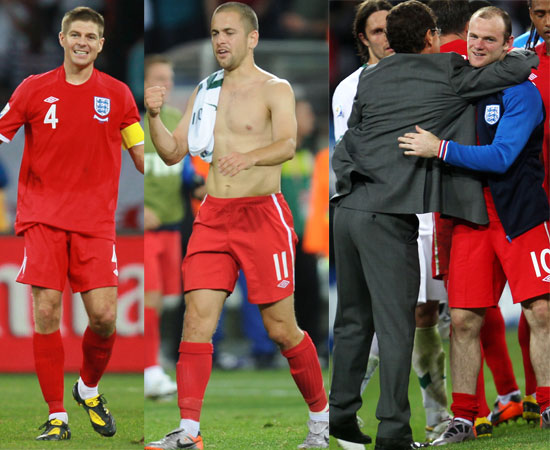 To see many more photos of David, Fabio and our team, just read more.