Pictures of Fergie Sarah Ferguson After Prince Andrew Access For Cash Scandal
Sarah Ferguson Apologises After Access For Cash Scandal
Sarah Ferguson arrived at LAX yesterday following her weekend celebrating Naomi Campbell's 40th birthday in the South of France. Footage was revealed yesterday of the Duchess of York accepting $40,000 (£27,000) cash as a down-payment to provide access to her ex-husband Prince Andrew. Fergie was filmed on Tuesday by an undercover reporter striking a deal for £500,000 in return for an introduction to Andrew. She has issued a public apology, saying: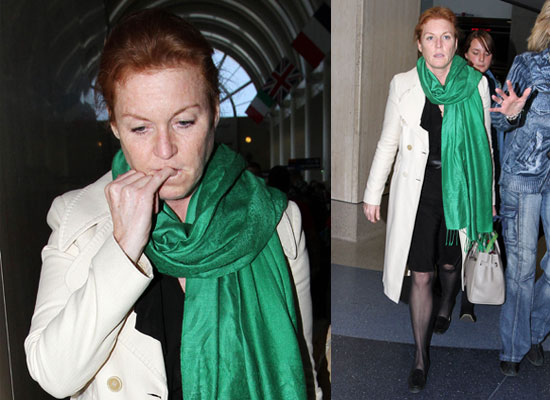 "I very deeply regret the situation and the embarrassment caused. It is true that my financial situation is under stress however, that is no excuse for a serious lapse in judgment and I am very sorry that this has happened. I can confirm that The Duke of York was not aware or involved in any of the discussions that occurred. I am sincerely sorry for my actions. The Duke has made a significant contribution to his business role over the last 10 years and has always acted with complete integrity."
The Palace confirmed The Duke of York denies any knowledge of the meeting.