Pictures of Hollyoaks Babes Jorgie Porter, Jennifer Metcalfe, Gemma Merna, Claire Cooper in Bras on FHM Cover
Hollyoaks Babes Bare Their Bras For FHM
Hollyoaks stars Jorgie Porter, Jennifer Metcalfe, Gemma Merna and Claire Cooper stripped down to bikini tops and bras, mini skirts and high heels for the special action issue of FHM. The McQueen girls talked to the magazine about what they look for in a man, previous experience with weapons, fighting and doing their own stunts. Here are the highlights: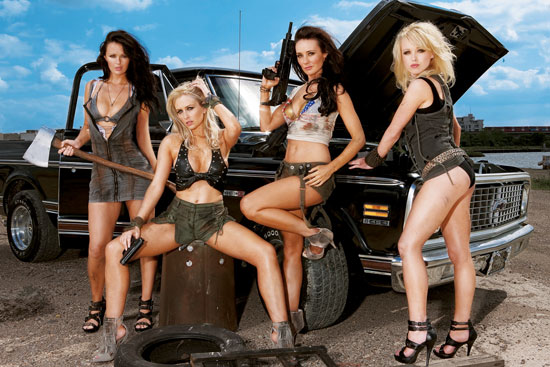 Claire Cooper: "I like an action man, I like a guy who can do stuff and use his own initiative. Weirdly, I really fancy Jeff Goldblum, he rocks my world, he's a big tall man. Bruce Willis in Die Hard is quite hot. But it has to be Goldblum, though not in The Fly."
Jorgie Porter: "For my work experience at high school I went into the Army for a week. It was the best thing! If I wasn't doing this, I think I'd definitely join up. I fired a gun – I think it was an SA80 – and I got my skin caught when I changed the magazine. That hurt!"
Jennifer Metcalfe: "A man needs to be a real man, not those bulging six-packs, that's disgusting. I like a real man, none of that action-hero body stuff – that's weird. As I've got older I've got a lot more fearless. We had to do our own stunts for this church explosion [in Hollyoaks], and we had to chuck ourselves off the church balcony. That was fun."
Gemma Merna: "I wouldn't say I was particularly hard. I've only ever been in play fights. But I'd definitely step in to protect a friend. I used to do tae kwon do and judo when I was young and was good at the kicks and punching, but I didn't get a black belt. I didn't get into a fight, I got bored and moved onto dancing. I could dance myself out of a fight."
The full feature, including more amazing pictures, appears in this month's FHM Magazine, on sale now!