Pictures of Hot Shirtless England Football Players at World Cup Algeria Match Plus David Beckham, Prince Harry, Prince William
England Players Disappoint With Result But Give Glimpses of Hot Bodies as David Beckham and the Princes Watch On
England's World Cup game against Algeria ended in a 0-0 draw, but as the players left the pitch they gave us a peek at their rippling abs. David James showed his six-pack when he got fully shirtless, while Wayne Rooney, Glen Johnson and John Terry lifted their tops to wipe their faces. The tournament has already given us plenty of sexy treats from players of many nationalities, and there's bound to be more eye candy as the competition progresses.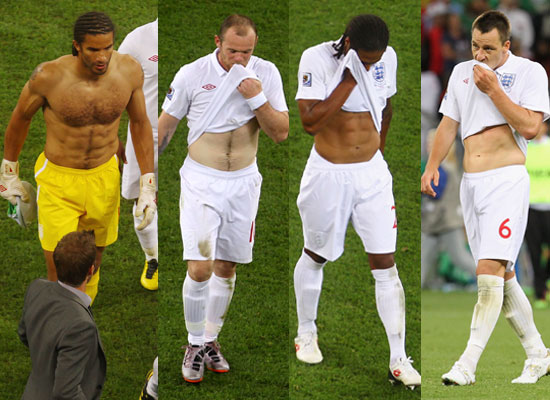 Prince William and Prince Harry were in Cape Town to support our boys, after visiting animals in Botswana, playing footie with Joe Jonas, and dancing in Lesotho. David Beckham was also dressed in a suit as he watched from the sidelines. He's been training with the team, so let's hope he can help inspire the lads after this disappointment and the draw against USA.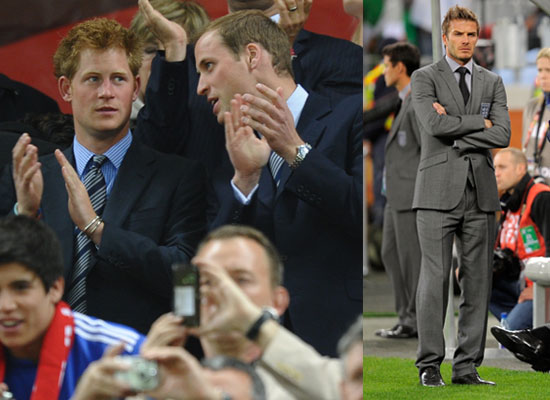 To see loads more pictures of the players plus Becks and the Princes, read more.
Images include: Steven Gerrard, Gareth Barry, Frank Lampard, John Terry, Wayne Rooney, David James, Ashley Cole, Emile Heskey, Aaron Lennon, Glen Johnson, Jamie Carragher, David Beckham, Prince William, Prince Harry, Fabio Capello