Pictures of Hugh Laurie Jon Hamm, Jimmy Fallon, Nina Dobrev, Kyra Sedgwick and Tina Fey at the Emmy Awards Governor's Ball
Brits Go To The Governor's Ball Alongside Emmy Night's Big Winners!
Brit actress Archie Panjabi celebrated her win at the Emmys on Sunday night by attending the Governor's Ball afterwards with her The Good Wife costar Alan Cumming and the other winners, nominees and presenters. Host Jimmy Fallon sang and danced as host of the show, and kissed his wife Nancy Juvoven once it was all over. Hugh Laurie watched Ricky Gervais bring beer to the ceremony and had a glint in his eye at the ball. Meanwhile Kelly Osbourne changed from her black dress into a gorgeous white gown, carrying on her evening looking as stunning as she was when she started it — but which is your favourite look?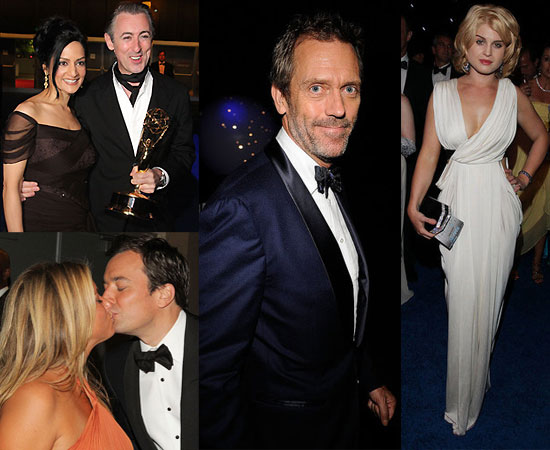 The Glee kids, like Mark Salling, Lea Michele, Matthew Morrison, and Chris Colfer, celebrated Ryan Murphy and Jane Lynch's wins all together. Mad Men's January Jones and Christina Hendricks were all smiles about the show nabbing its third consecutive best outstanding drama series award. Lost's Michael Emerson chatted with costars Daniel Dae Kim and Henry Ian Cusick, while the True Blood crew stuck together all night. Make sure to check out all our Emmys coverage, including shots from the red carpet, exciting show and backstage photos, and the entire list of winners here!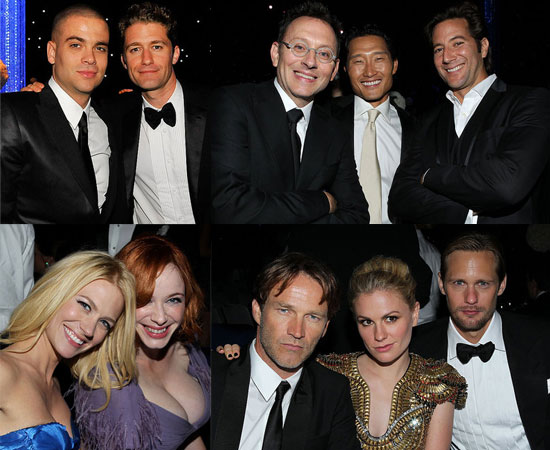 To see more photos from the Governor's Ball afterparty, just read more.
Images include: January Jones, Kevin Bacon, Kyra Sedgwick, Jon Hamm, Aaron Paul, Bryan Cranston, Christina Hendricks, Tina Fey, Amy Poehler, Elisabeth Moss, Hugh Laurie, Jason Sudeikis, Rose Byrne, Anna Paquin, Stephen Moyer, Alexander Skarsgard, Neil Patrick Harris, David Burtka, Alan Cumming, Archie Panjabi, Emily Deschanel, Michael C. Hall, Jennifer Carpenter, Nina Dobrev, Michael Emerson, Daniel Dae Kim, Henry Ian Cusick, Kelly Osbourne, Kim Kardashian, Eric Stonestreet, Jimmy Fallon, Nancy Juvonen, Anthony Edwards, Christopher Meloni, Jane Krakowski, Glenn Close, Jenna Fischer, Angela Kinsey, Ty Burrell, Julie Bowen, John Krasinski, Ed O'Neill, Bryan Batt, Jesse Tyler Ferguson, Ryan Murphy, Jim Parsons, Jennifer Westfeldt, Mark Salling, Matthew Morrison, Chris Colfer, Lea Michele, Kiernan Shipka, Carrie Preston, Rainn Wilson, Amber Riley, Jane Lynch, Jeff Zucker, Cheryl Hines, John Slattery, Ted Danson, Jorge Garcia, Jeff Probst, Joel McHale, Padma Lakshmi