Pictures of Jamie Oliver and Jools Oliver Who Have Welcomed a Son Named Buddy Bear Maurice
Jools and Jamie Oliver Welcome Their First Son!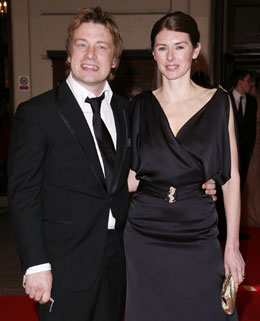 Jamie Oliver's wife Jools has given birth to their fourth child, a boy named Buddy!
They announced their pregnancy news back in March, and last night Jamie tweeted: "it's a baby boy guys !!! im shock, were all very happy, mum was amazing and both are well and happy x4 kids!! what a great day!! now i have to pretend to know about football!! all tips on boys excepted". The proud father also posted pictures of the new arrival.
Buddy Bear Maurice weighed 6lb 9oz, and joins big sisters Petal Blossom Rainbow, who was born in April 2009, Poppy Honey and Daisy Boo. Congratulations to the Olivers!