Pictures of Javier Bardem at the 83rd Annual Oscar Nominees Luncheon
New Dad Javier Bardem Talks Biutiful and Julia Roberts at the Oscar Nominees Luncheon
Javier Bardem was the first up at the podium in the interview room at yesterday's 83rd annual Oscar nominees luncheon. Javier, who just welcomed a baby boy with wife Penelope Cruz, is up for best actor in a leading role for his work in Biutiful. Javier answered a couple of questions in Spanish and talked about how honoured he was to land a nomination for a movie that is not in English: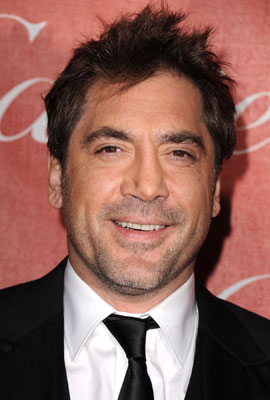 On how he feels to be nominated: "To be here today is a great honour, first of all because it's in Spanish, and we all know how difficult to get a nomination for a foreign speaking language performance...So a double honour, of course. The movie was always going to be made, the thing is we had to find the right people to do it and that takes time but thank god, it happened."
On having the support of famous friends: "Sean [Penn], and Julia [Roberts] and Michael Mann and many others were out there, and said we like this movie and want people to see it, and that's always an amazing gift. Because I'm sure they have many other interesting things to do that day...It's always very helpful to have the support of people of that quality. Of course, it was very helpful and you feel protected. It's like, any of these people are great actors and for me to be protected by them is a great honor.
On how this year's nomination is different: "I feel very honoured because---I mean this is the third time I've been nominated, but this time the honor is different because it's Spanish. Because it's not easy to be here [as a nominee] in a Spanish performance."
On whether it was hard to get out of character following the shoot: "Yes, it was hard. It took me a lot of time, six months to really get back to my feet. That's something that happens subconsciously. You change...it's like you are that person for 24 hours for six months. It's obvious. It's like if you go to a disguise party and you stay at the disguise party for more than 12 hours dancing, there will come a moment when you believe you are a banana!"