Pictures of Jesse Eisenberg at the 83rd Annual Academy Awards Nominees Luncheon
Jesse Eisenberg Calls Mark Zuckerberg "Sweet" and "Generous" in His Funny Oscar Nominees Lunch Interview
Jesse Eisenberg was among the award season front-runners who stopped by the interview room yesterday at the Oscars nominee lunch in LA. He followed Javier Bardem and kept things similarly humble and lighthearted. The Social Network star cracked a few jokes as he took questions and opened up about meeting Mark Zuckerberg during SNL. He said: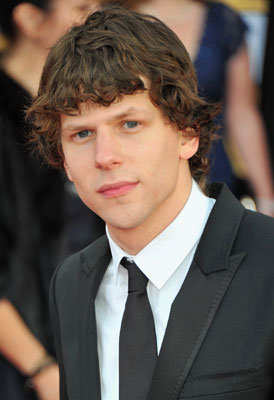 On what awards season's been like: "When I was 13, I had to go to bat mitzvahs every weekend and this is like the same thing. You have to put on a suit every weekend to go meet with a lot of Jews. [laughs] It's been very nice. The alternative is worse, where no one likes your movie. I've experienced that, and this is better."
On meeting Mark Zuckerberg: "I was nervous to meet him, because I had spent now, a year and a half thinking about him...I was doing everything he did, taking fencing lessons because he fenced in high school. I had built up this kind of great anticipation...and then we met under circumstances that were far more anxiety producing, which was to be on national TV together."
On whether he thinks the movie was good for Facebook: "It's hard to say. I'm sure the company was a little nervous about the movie, and I think it's actually, like you implied, ultimately been good for them...Mark has been so gracious about something that's really so uncomfortable....The fact that he would do SNL and make fun of the situation is so sweet and so generous. It's the best possible way to handle something that, I think, could otherwise be very uncomfortable."
On his nomination: "I have this, like, general sense of feeling like I don't belong, though I talked to a lot of other people who I think of as very much belonging and they have the same feeling. So I think it's a room full of insecure actors, which is ultimately comforting."