Pictures of Jessica Alba in the December Issue of Elle
Jessica Alba Talks Comedy, Criticism, and Honor in Elle
Jessica Alba models various shades of pink for her dreamy December Elle cover shoot. Inside, she talks about figuring out the next phase in her career and even admits to knowingly taking on less-than-challenging roles in her past. The actress, who is currently at work on Spy Kids 4, says Honor is her top priority these days and being a mom has made her more picky with projects. Jessica has been enjoying family life during her breaks from the set and spent Halloween with Honor before dressing up as a zombie for a concert. Here are highlights: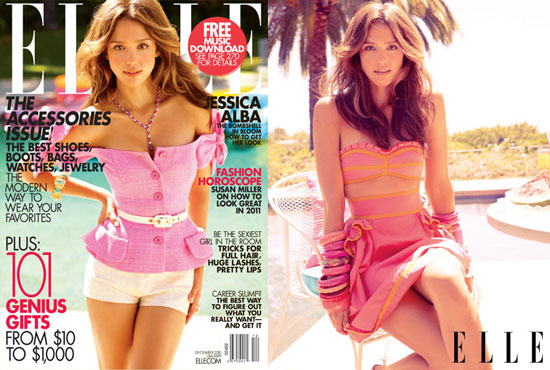 On her past roles: "I know I haven't been swimming in the deep end with some of the movies I've done. I wasn't trying to. I knew what they were."
On going off-script: "Good actors, never use the script unless it's amazing writing. All the good actors I've worked with, they all say whatever they want to say."
On her newfound confidence: "I'd been so afraid of criticism ever since I was young. Every time I'd get a critique or some redirection, I'd always just take it very personally, but now I have no problem with it. It's just a chance to try things a different way. To play more with a character. It also gives me a chance to have some input, to use my voice."
On why she loves comedy: "I'm shy. I don't like being the centre of attention. But when I do comedy, I lose all inhibition and introspection. I no longer care."
On balancing work and family: "The time I'm not spending with my kid has to be worth it, so when I sat down with my agents after I was ready to go back to work, I told them: It's all about the directors."