Pictures of Jewel and Ty Murray Who Are Pregnant With Their First Child
Jewel Is Pregnant!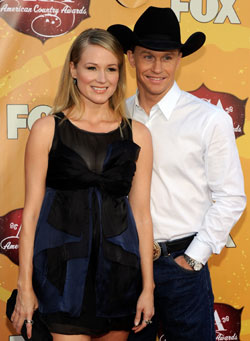 Jewel and her husband Ty Murray have announced they're expecting their first child. The singer tweeted hints yesterday, and just revealed: "yes, many of you guessed it- Im pregnant! Ty and I r so excited!"
She discovered the happy news on the first day of cohosting the upcoming reality show Going Platinum, and told People magazine: "It was so hard to keep it a secret. I was worried I'd start throwing up on set and everyone would be like, 'Oh, she's pregnant.'"
Jewel, who attended the American Country Awards with Ty in December, is now in her second trimester. Congrats to Jewel and Ty!