Pictures of Julia Roberts and Javier Bardem at Eat Pray Love Premiere in New York
Julia Roberts and Javier Bardem Eat Pray and Love in NYC!
Julia Roberts showed off her legs and darker hair colour at the premiere of Eat Pray Love in NYC yesterday. Javier Bardem was dapper in blue, but his new wife Penelope Cruz couldn't attend as she's busy filming Pirates in Hawaii. James Franco also missed the screening since he's shooting a movie in Vancouver. Director Ryan Murphy gave an interview earlier in the day where he talked about his other big project, Glee, revealing that Britney Spears will be making a cameo on her episode. Ryan also raised a few eyebrows discussing the movie's "controversial" pasta scenes and in case you missed it, read more from Julia and Javier.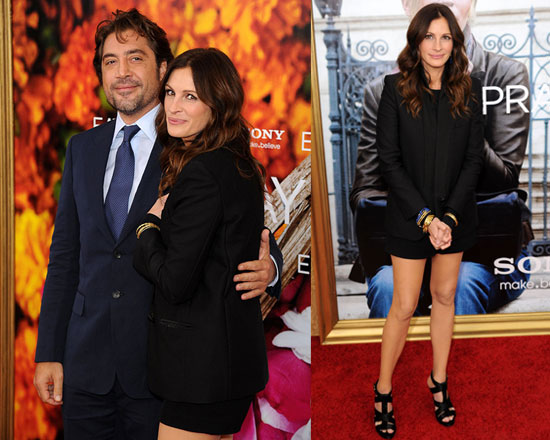 To see more pictures from the premiere, just read more.