Pictures of Kate Hudson on the Cover Of British Elle Magazine October 2010
Kate Hudson Talks Marriage, "Lovely" Matt Bellamy, Muse and More with Elle Magazine
Kate Hudson is on the colourful cover of Elle's October issue, which is also the mag's 25th anniversary issue. It's out now and Kate stars in a photospread inside as well as chatting about her new man Matt Bellamy and his band Muse. She discusses her attitude to marriage after the breakup of her first, talks about her son Ryder and reminisces over times on tour hanging out with Liv Tyler. Check out the video of her shoot — here are some extracts from her interview: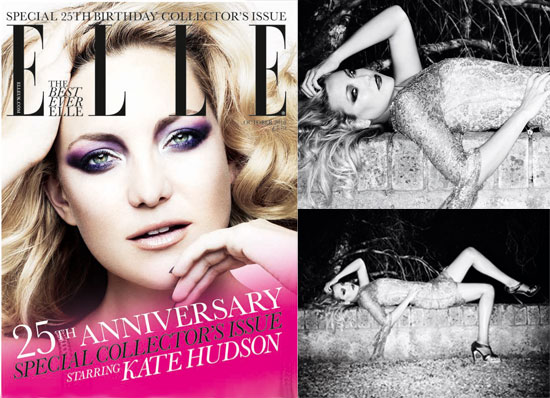 On marriage: "It's definitely not something I'm looking for. But the divorce doesn't put me off. I'll just see what happens. I think a lot of times people are terrified of love and stop themselves from experiencing it. I don't ever want to get that jaded. I do believe in love. I believe that when you really open yourself up to love, it's the most beautiful thing."
On Matt Bellamy: "He's lovely."
On her favourite of Matt's songs: "My favourite Muse song? Ha ha ha! I'm not well-versed enough on that. I'm getting there though. Matt and I are just learning about each other and it's wonderful."
On Glastonbury: "I love to see live music. Glastonbury this year was amazing and Muse blew me away. Although I didn't do much socialising – I had my focus on the suckling-pig hog roast that'd been cooking for four hours! There was a bunch of us there – my friends who are here in Italy and all our kids – around our camp fire."
To read what Kate has to say about her career, her son Ryder and her relationship with ex-husband Chris, just read more.
On her career: "I have no interest in doing anything right now. I think that happens sometimes. You get burnt out. I have to recharge. Artistically, I have zero competitive nature – to the point where I wish I had a little more sometimes."
On her favourite song: "'Visions of Johanna' by Bob Dylan. I can't go anywhere without music. When I was shooting Almost Famous, we'd sit and listen to that song on set. I associate it with that role, it was such a great time. Cameron Crowe [the movie's director] brought all sorts of new music into my life. As did my marriage – Chris is a wellspring of information. He knows more about music than anyone I've ever met. I still feel close to him. When you're divorced and raising a child together, the communication has to stay alive. . . Chris has moved on, he's remarried and had a baby and when you both have new people in your life, you have to really stay on it. I think Chris and I both have that priority checked."
On tour times with The Black Crowes and Liv Tyler "Liv [Tyler] was on one of the tours. That was a blast. We met when I was 15 and she was 17. She was friends with my brother Olly and I remember the first time I met her: she walked into my parents' kitchen and she had this little sundress on, and those long legs, and I looked at her, thinking, 'Oh, my God, the most beautiful woman ever walked into my house and I will never look like that! That is beauty.' We've been friends ever since."
On health: "[I've] just finished Born to Run by Christopher McDougall. If you're a runner, you'll love it. It's about how far we can go, physically and spiritually. I am, by nature, active and I have to work out. I usually do two hours each day when I'm at home. I dance, I like to spin, I've got into some of the Tracy Anderson [trainer to Gwyneth Paltrow and Madonna] stuff – I work with this girl Anna at her studio. And I've had a trainer called Nicole Stewart for 15 years – she's trained me when I've needed to get into work mode. I'm pretty disciplined. It's important to be conscious of your health and not indulge too much in the things that are bad for you. Do I mind having my appearance constantly scrutinised? [Laughs] I don't have enough time on this planet to worry about things like that. I'm more concerned with if I'm raising my son properly, with what makes my family happy, with what makes me happy."
Check out Kate's full interview and photoshoot in Elle UK, out now!