Pictures of Kate Hudson and Matt Bellamy in LA
Kate Hudson Talks Beauty While Matt Bellamy Steps Out in LA
Matt Bellamy picked up some lunch in LA on Saturday, where he's staying with his girlfriend Kate Hudson. The pair have been seemingly inseparable for months in New York and London too. Kate was spotted out in the city running errands on Sunday in a grey top and flared jeans, with big shades on. One of Kate's current gigs is as the face of Almay, and she recently spoke to WWD about what beauty means to her and lessons she's learned from her mother, Goldie Hawn. Kate said: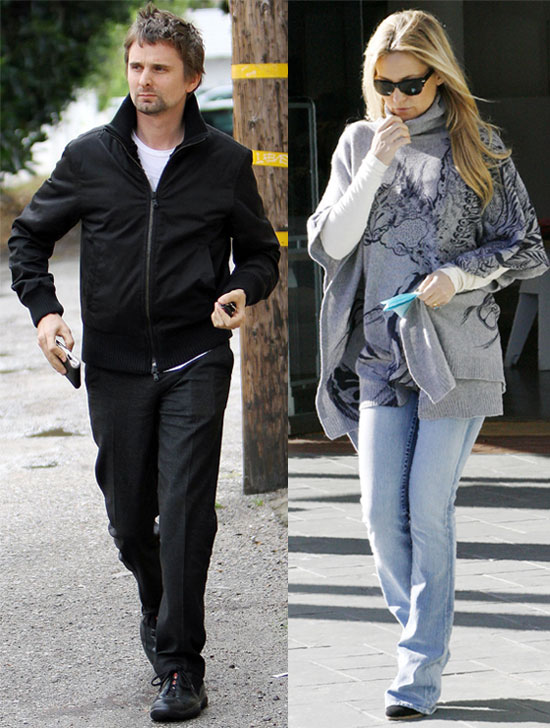 On her definition of beauty: "This will come out clichéd and slightly cheesy, but it starts with attitude, personality and kindness — and a little bit of hygiene. The most beautiful women are the most fun and compassionate. But then every once in a while a woman walks into a room and she is just strikingly gorgeous. The image of a mother is the most beautiful thing."
On making time for yourself: "When you're busy and have kids and a career and are in a relationship and are trying to balance everything, it's always important to take some time out for yourself each day. My mom taught me that. No matter what it is. Painting your toenails or meditation or reading a book. Exercise is vital."
On her mum Goldie's tips for looking good: "Sleep. And her green juice. She has this thing for greens and high levels of chlorophyll. The juice is made with water and kale and spinach and omegas and flaxseed oil. I just had one of my mom's green juices this morning."
On being low or high maintenance: "I come somewhere in between. Nobody wants to admit it. Of course my brothers would say I am high and my friends would say low. But if you saw me right now, I'm definitely low maintenance, with chipped polish and hair not brushed. In terms of beauty regimen, I am definitely low maintenance. But in terms of work and laziness, I don't like when people are lazy. When it comes to work, I am high maintenance. I expect everybody to show up."