Pictures of Katie Price and Alex Reid Who Have Confirmed Their Separation
Katie Price Confirms Split From Alex Reid
Katie Price has released a statement announcing her decision to end her relationship with Alex Reid. This morning she thanked her Twitter followers "for the support at this sad time". Katie confirmed their marriage was in crisis at the beginning of the month, but refused to comment further as she went about her promotional duties over the last couple of weeks. The couple wed in Vegas in February last year, after dating for seven months, and just five months after her divorce from Peter Andre. In her lengthy statement, Katie accepts that they married too quickly and that was a mistake. However, she claims Alex has changed and become "more fascinated by life in the media eye". She reveals that she had planned to release a joint statement with Alex, but she changed her mind after pictures of Alex with Junior at a gym emerged. Katie hoped to remain friends with Alex, but now she says she's "not sure if that is possible". Read the full statement after the jump.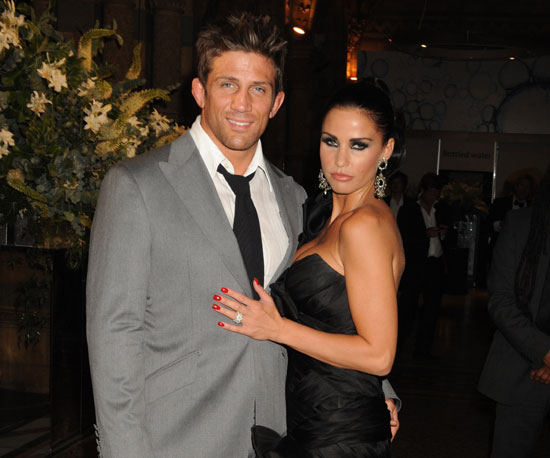 To read Katie's statement in full, just read more.
Alex and I have had a number of difficulties over the past few months. I accept that these were in part caused by my marrying too quickly — we all make mistakes and this was one.

However, Alex changed from the man I fell in love with and some of his behaviour became difficult for me to understand and caused issues. I have tried to help him with these issues but they have put a considerable strain on our relationship.

Our difficulties were also not helped by Alex becoming more fascinated by life in the media eye. Obviously I cannot be critical of someone wanting to do this and originally I tried to help him with his career by getting him contracts with my production company. If Alex wants to honour those contracts, the production company is more than happy to do so.

However, Alex's desire to promote himself caused a change in the dynamic of our relationship and contributed to our alienation.

Alex and I have spent many hours discussing our relationship and trying to make it work but the issues between us are too deep rooted. I had hoped that we could end our relationship amicably and without a war of words in the media.

I appreciate that there are those that will not believe that but I had agreed I would say nothing more than the statement we had jointly prepared. This was not because I am concerned what Alex may truthfully disclose but to give him comfort that I would not discuss the issues that so strained our relationship.

I had hoped that Alex and I could remain friends but I am not sure if that is possible given events since last Sunday when we were on the verge of releasing a statement. Alex asked that we did not release any statement because he wanted more time to think.

The intervening period has, however, seen a number of false stories appear and photographs of Alex with my son Junior in the gym which it is absolutely clear were posed for. Alex is fully aware that I have sought to remove my children from the public eye now they are of an age to understand and be affected by media coverage of them.

I feel incredibly let down that he did this while asking me for more time to discuss our relationship and just hope that the stories circulating that he sold those pictures are not true.

It is true that I have asked Alex to leave the family home and that he will not do so. I would leave myself but the house is equipped for Harvey's needs. Alex would like to portray himself as honourable and I hope he acts that way.

Contrary to some reports I have not discussed financial matters with my divorce lawyers. I would like to make clear that the allegations that I have been dragging out any announcement so that my film crew can capture on film Alex's upset are complete fabrication.

I am deeply upset that my relationship with Alex has failed but I know it is the right thing for my children and I that we separate. My children are my absolute priority in this and they are being shielded from what is happening.