Pictures of Katie Price in Sexy Secretary Look For Fourth Autobiography Book Launch You Only Live Once in London
Katie Price Gets Smart For Autobiography Launch
Katie Price launched You Only Live Once at Waterstones in London this afternoon. I was there to meet the author before she posed for pictures and signed copies of her fourth autobiography for fans. She wore a black tracksuit and wig for the press presentation then changed into her smart ensemble. Kate revealed the reason behind the title, her surgery plans, and her relationship with Alex Reid. Here are the highlights: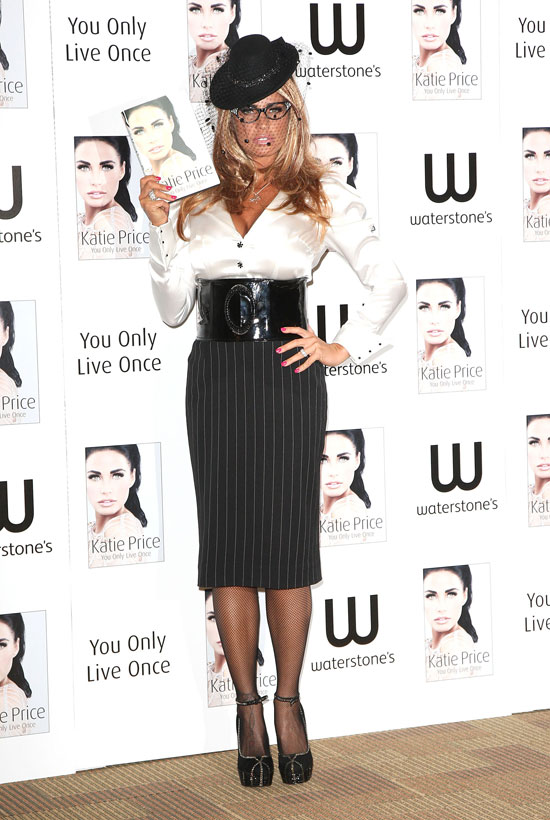 On the title: "I called this book You Only Live Once because you do and there's lots of things I do right, lots of things I do wrong. But until you try and test them how do you know? So I always say, 'You only live once'."
On her attitude towards surgery: "I'm going to let all the Botox fillers ... come out my face. If you look at my face now I'm actually all creased up for once, [sings] for once in my life! I haven't had Botox for ages."
On whether she tells Alex what to do and wears the trousers in their relationship: "I can assure you our relationship is very equal and I don't wear the trousers, I wear the skirt."
Kate's already on her way to her next signing in Derby tonight.